Imagine a picturesque region, enchanting atmosphere, and majestic mountain range….and then add in your favorite music. As we wait for May 25-26, Gather Music Festival's debut, they entice us with their massive phase 2 lineup. Located 90 miles from downtown Manhattan in the Catskills, Gather Music Festival promises epic views and even more epic sounds, a combination that has yet to take place in such a location.
Dance through the forest on Holiday Mountain to expertly curated house and techno tunes with the rest of the Gatherers, an experience the East Coast city dwellers will be happy to escape to for the weekend. The Catskills is no stranger to influential musical events, as Woodstock was also held here. The mountain resort that Gather is held at will come alive with the sound of music this May, for all of us to hear.
Without further ado, the Gather lineup phase 2 includes: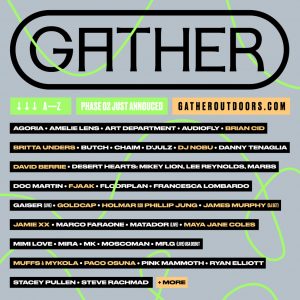 Gather's phase 1 lineup features an array of prominent house and techno royalty, featuring breakout stars like Amelie Lens and Mira alongside MK, Moscoman, Audiofly, and beyond. Legendary appearances by Stacey Pullen, Danny Tenaglia, Doc Martin, and the familial legacy of Floorplan are set to rock Holiday Mountain to its core.
Attendees will be able to camp on-site or stay at any number of neighboring resorts and hotels. Outside the musical programming, ticket holders will be able to partake in an array of seasonal activities. To make your journey to the promised land easy, shuttle service to and from Manhattan will be provided.
Phase 2 additions include Jamie XX, LCD Soundsystem's James Murphy featuring a special disco set, FJAAK who will bring their classic hybrid performance, DJ Nobu with his unique, high-octane sounds, and Maya Jane Coles to impress us on the decks.
Burning Man sounds will be brought to the stage by Goldcap, and the Holmar & Philip Jung are set to perform a memorable b2b. Brian Cid, who has engineered for Beyonce, Rihanna, and other stars, will also be Gathering with us, featuring his melodic electronic noises.