The Glitch Mob has been busy! From their third album See Without Eyes being released to their current tour, they've decided to announce their fall 2018 tour. For the love of music, they'll be traveling all over the U.S. Here are their stops below:
THE GLITCH MOB 2018 NORTH AMERICAN FALL TOUR
09/27/18 – The Van Buren – Phoenix, AZ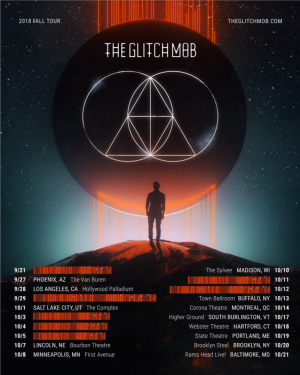 09/28/18 – Hollywood Palladium – Los Angeles, CA
10/01/18 – The Complex – Salt Lake City, UT
10/07/18 – Bourbon Theatre – Lincoln, NE
10/08/18 – First Avenue – Minneapolis, MN
10/10/18 – The Sylvee – Madison, WI
10/13/18 – Town Ballroom – Buffalo, NY
10/14/18 – Corona Theatre – Montreal, QC
10/17/18 – Higher Ground – South Burlington, VT
10/18/18 – Webster Theatre – Hartford, CT
10/19/18 – State Theatre – Portland, ME
10/20/18 – Brooklyn Steel – Brooklyn, NY
10/21/18 – Rams Head Live! – Baltimore, MD
Glitch Mob is proud to announce their live electronic dance performance on their new stage "The Blade 2.0". One unique feature of this stage, as learned in The Glitch Mob's Billboard interview is that they have chosen to angle their MIDI controller's down towards the crowd, so their audience can soak in all of the hard work they put into performing live, and to show that they're not just hitting the "play" button. "The way that we've programmed this set, and the way that we perform it, we don't need to be staring at the computer," Ma says. "That's kind of the whole point of it — to really get away from that paradigm."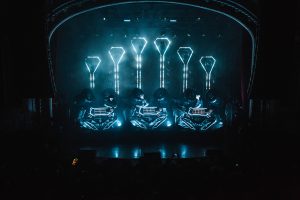 With all of the effort put into this immaculate tour, you can get your tickets HERE, and enjoy the show. We know we will!