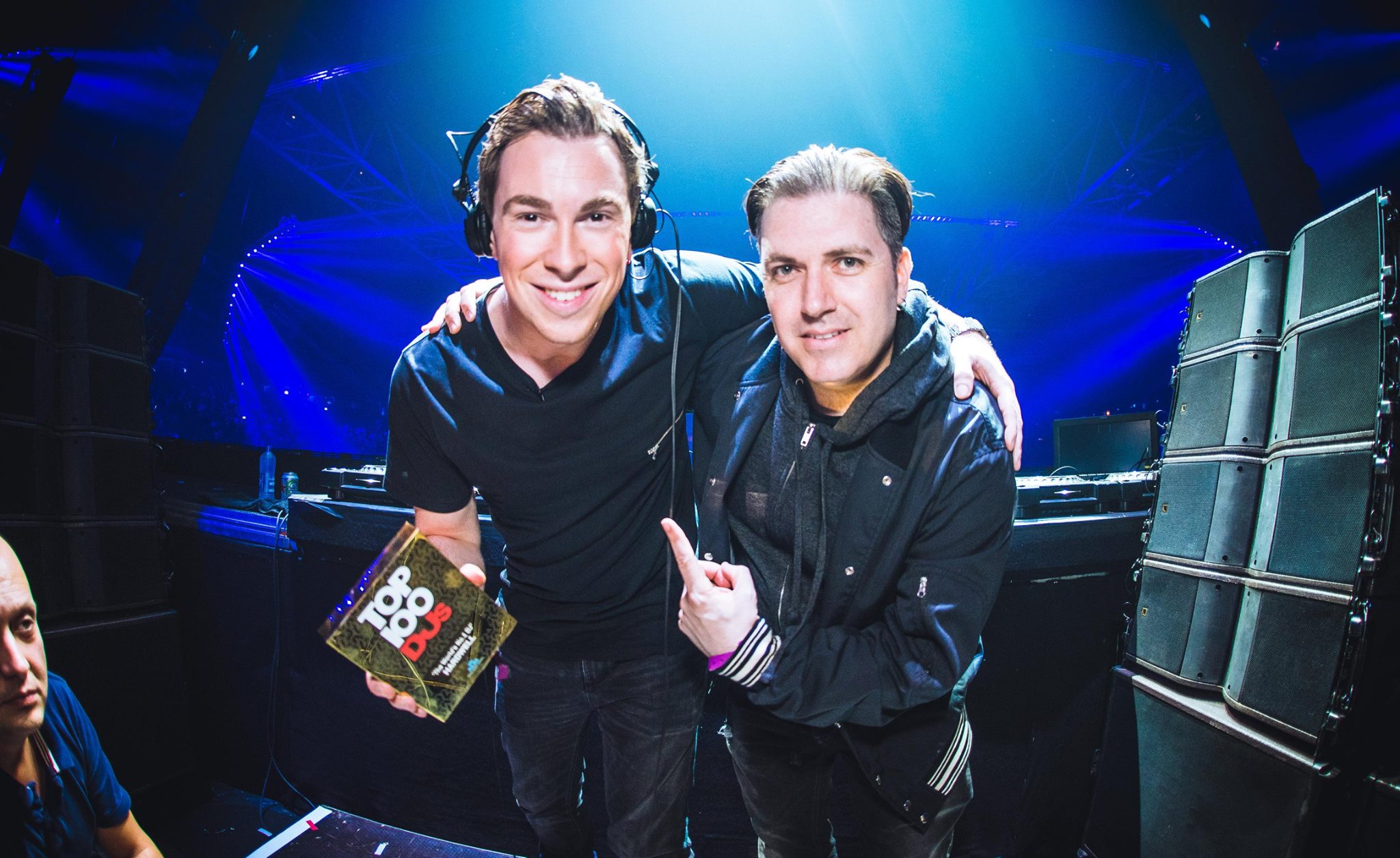 DJ Mag's #1 DJ in the World, Hardwell, poses with Insomniac CEO Pasquale Rotella during ADE
"Go Hardwell or Go Home" is a motto often used by the most admiring Hardwell fans, even endorsed by the artist himself, is one that anyone who's seen the world's number one DJ (according to DJ Mag) take into consideration. As Hardwell made his stop at the Forum in Inglewood, CA for his Los Angeles stop on his 'I Am Hardwell' tour, it was clear that many were up in arms about what to expect. Having read various reactions from different concert-goers that had attended Hardwell's previous show stops in different cities, we truly did not know what to expect. Was it going to be just a "typical" Hardwell set that we've come to know or was there going to be a few surprises in the mix?
Arriving at the Forum, the venue itself was a sight to witness. Having gone under a recent multimillion dollar renovation, the historic forum was a pleasantly accommodating venue for Hardwell to showcase his talent among the patrons that had traveled to see him. Introducing a revamped interior and luxurious Forum Club for those with VIP passes, the venue was very easy to navigate and extremely welcoming for such a large venue of it's kind.
The show kicked off at 8pm with Dannic. Having only played a quick one hour warm-up set, Hardwell then took the stage promptly at 9pm. As the crowd worked its way into the venue, many were unaware that Hardwell was on at the 9pm hour, but nonetheless as the venue filled and so did the enthusiasm. We wish there would have been more communication to fans about the set times, but not many people seemed to be upset as Hardwell was playing a whole full three hours. That was one of our first surprises.
The stage set up was minimal in terms of props and appearance. With a mixture of indoor pyrotechnics, CO2, fireworks, and lasers these made the set up feel appropriate and appealing for the show. For the allotted space, the stage was very large in terms of size with a floor to celling Reveled Record emblem making up both the outer regions of the stage. The standing floor section and the upper seating arrangements were quite spacious giving everyone significant room to dance and move around the venue without having to run into each other.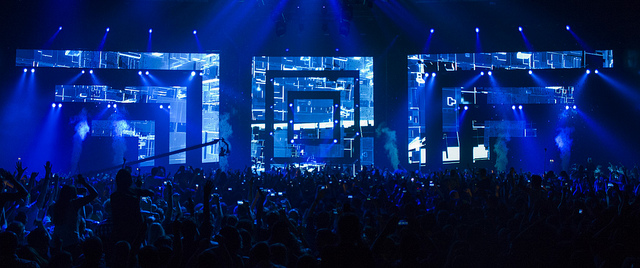 KBK Visuals create an immersive and over-the-top visual experience for fans attending the I AM HARDWELL World Tour
In terms of his set, we must give it up to Hardwell for putting a vibrant set together for the night. Composing various mashups of various other electronic music anthems while showcasing his hit singles over the years such as "Apollo", "Never Say Goodbye", and "Dare You" featuring Matthew Koma on vocals. The crowd embracing every single drop to confetti shower, they were one of the most energetic we had seen at a standalone artist show. The sea of voices filling the air as the crowd belted out the lyrics to "Heroes", "Pursuit of Happiness", and even humming along to the crowd favorite "Tremor" which was a mashup alongside Hardwell's remix of Armin Van Buuren's "Ping Pong." Closing out the night was none other than the "Spaceman" and "Rocket" mashup that we've all become familiarized with as Hardwell's signature set closing.
As everyone started filing out from the venue, an eery feeling lingered in the air as if the show was not completely over. Coming back for an encore, Hardwell surprised everyone with none other than the hardstyle sensation of Wildstylez and Brennan Heart's "Lose My Mind". As people made their way back on to the dance floor it was a pleasant surprise that a hint of hardstyle had made its presence for the night, maybe Hardwell is hinting that we can expect some hardstyle melodies on an upcoming album?
Many will argue that Hardwell's ranking as the number one DJ in the world was somewhat of a fictitious statement, whether you agree or disagree, its a given that this young superstar brought the inevitable energy to the Forum which was embraced from an audience from all different age ranges. We look forward to what the following year Hardwell has in store for us alongside his new album release and if he can keep the successful ranking he's attained as he claims the title as number one DJ for another year. The Forum is truly an incredible venue. The tenacious sound and the incredible views give this venue something that you simply can't get going to a club or venue in Hollywood. Being amongst thousands of screaming fans whilst looking up to the grand stands, we just knew we were in an amazing place.
We also look forward to the many events that are planned in 2015 in this vibrant venue including one of the most highly anticipated shows of the year, Above & Beyond's first stop on their "We Are All We need Tour." We know it won't disappoint. HARDWELL will be back in SoCal in Sunny San Diego this New Year's for LED's OMFGNYE. Tickets at www.mylifeeveryday.com