Insomniac is well-known on a global level for its epic festivals and dedication to spreading positive vibes, which is an ideal that they have applied not just to the festival realm but to all aspects of life. Since 2011, Insomniac has paired with over 30 charities in an effort to help the community as part of the Insomniac Cares movement. In the spirit of spreading peace and love, Insomniac steps up to the plate once again as a major contributor to the local charity Communities in Schools of Southern Nevada.
Ravers around the world have found a second home in Las Vegas as part of the annual Electric Daisy Carnival (EDC) that is hosted there each year. As a way to give back, Insomniac presented Communities in Schools (CIS) of Southern Nevada with a $70,000 donation to assist young adults in feeling comfortable in school despite the many issues they face especially in low-income communities. CIS is focused on lowering the dropout rate by providing mentorship, guidance, and tools to students to make sure they succeed against all odds. Yesterday, the Vice President of Culture and Content, Rich Thomas, visited the local Chaparral High School to congratulate them on their success, meet the students and mentors, and present them with a donation to the program that has changed lives.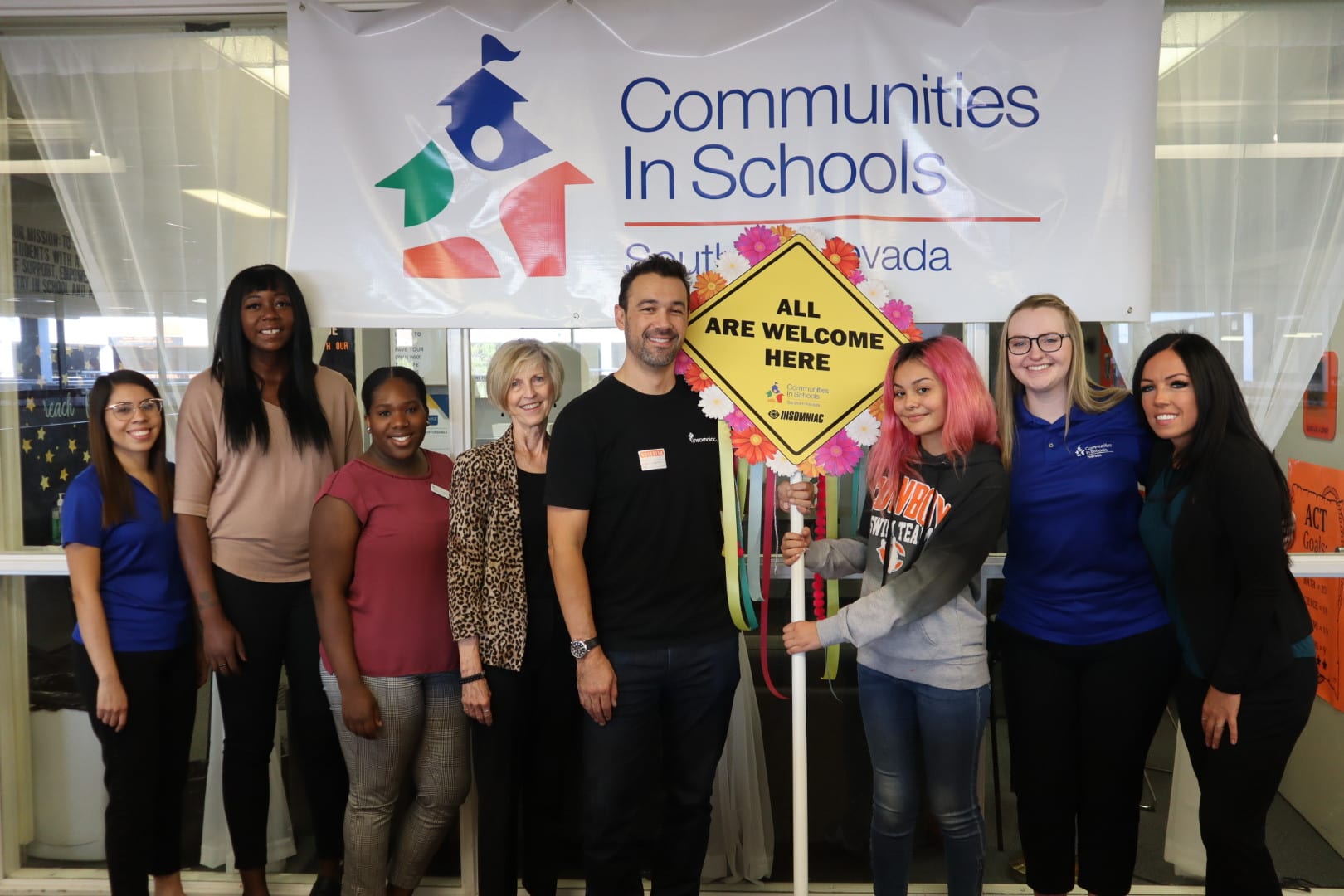 The motto of Insomniac, "All Are Welcome Here," matches the mission of CIS by uplifting those in the community by making sure they feel supported and welcomed. As part of his visit, Thomas visited the local classrooms where students shared touching stories of how they have overcome struggles because of the support from CIS. As a return, Thomas presented them not just with a donation but with a custom totem with their iconic phrase "All Are Welcome Here" to the graduating class of students enrolled in CIS.
Insomniac started the EDC Las Vegas Charity Auction back in 2015, and since then has raised over $500,000 for charities and nonprofit organizations. As a whole, Insomniac has raised over $2 million in donations since 2011 for programs that support arts, education, well-being, health, and the environment. For each ticket purchased to Insomniac events, $1 is donated to charity. For the EDC Las Vegas Charity Auction specifically, Insomniac partnered with eBay and local Las Vegas companies to give the public with a chance to win special experiences including meet-and-greets with DJs, VIP experiences, and festival packages in sweepstakes. All of the money from this auction is donated to a charity each year.
In a time where love is needed the most, the efforts made by Insomniac are noticed and appreciated throughout the community. Whether that is making ravers have a place to call home amongst friends that have become family or to help others in the community when they need it most, Insomniac certainly does their part to uphold the values they believe in. There is nothing but peace, love, unity, and respect here!
To learn more about Insomniac Cares, visit here.
*Images via Insomniac