South African producer, Kyle Watson, recently wrapped up his first ever, 12-date 'My Machines' tour that explored his musical archive of original, unreleased tracks and private edits.
Just last week, the artist tied the knot in Denver, Colorado ahead of his brand-new song release "The Reason" that's out now on Sink or Swim records.
Pursuing a string of various festival performances like Dirtybird Campout, Electric Forest, CRSSD, and sold-out headline shows, Kyle Watson took it upon himself to craft a unique tour that came with an all-original set paired with self-tailored visuals.
Given that the producer has a background in motion graphic design, programming visuals for his set came naturally. However, this 7-week tour was the first time the artist embarked on a voyage of this scale, and it wouldn't have been possible without his wife, Natasha.
They're a dynamic duo: Natasha takes care of his bookings, flyers, and logistical work, while he focuses on the music and visual components. "I wouldn't want to do it all [ourselves] again," said Kyle Watson. "It's pretty stressful on that front, but when you're playing a show, you forget about all that."
Kyle Watson sat with EDM Maniac to talk about playing unreleased tracks for the very first time in front of fans, his co-owned indie record label Box of Cats' and what inspires his musical production: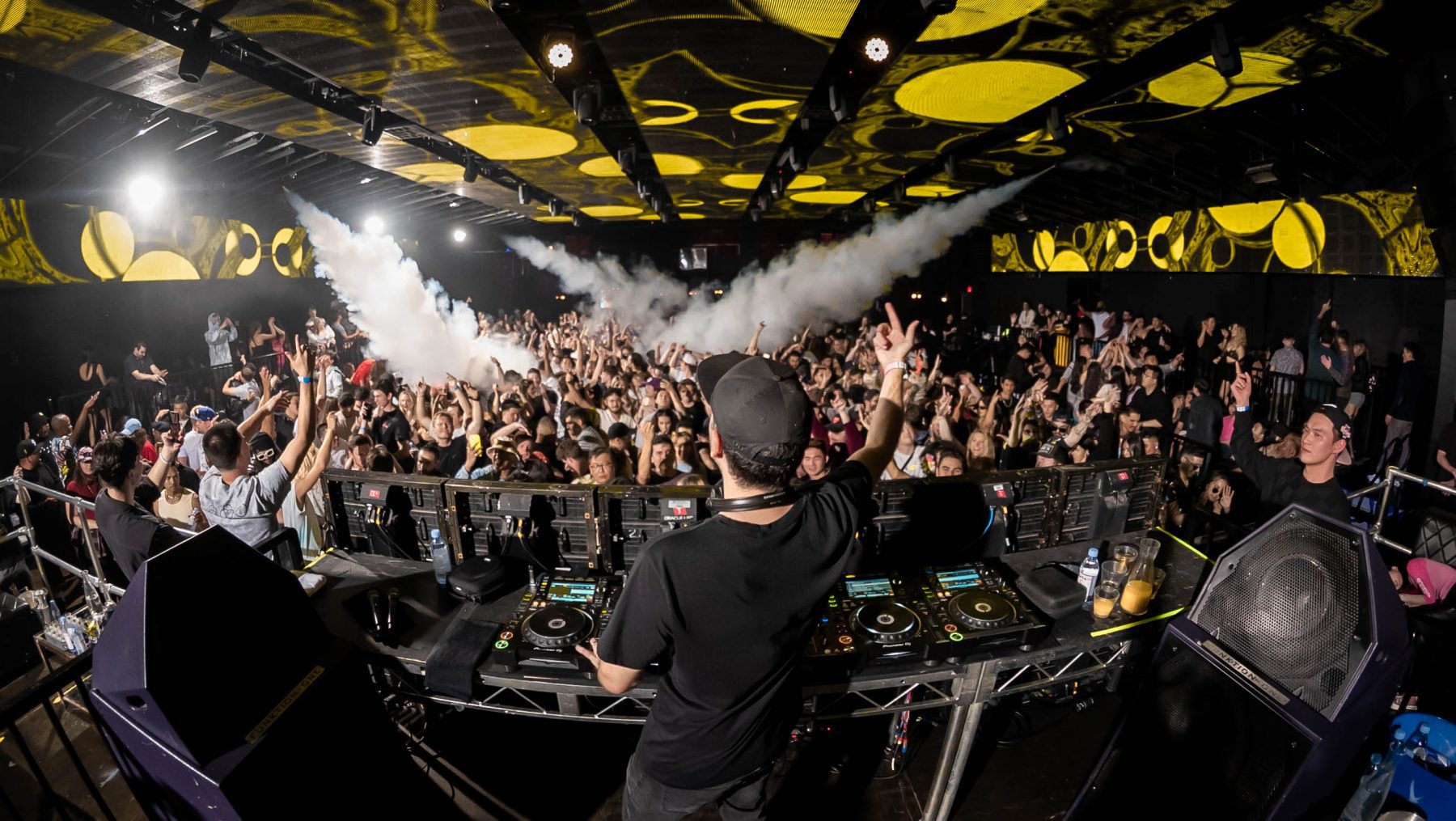 EDM MANIAC: You played an all-original set with familiar songs followed by private, unreleased tracks for 'My Machines.' How did you feel playing those hidden gems for the very first time?
Kyle Watson: It was cool! I put together six or seven VIP mixes of tracks that people may expect, but the drops they hear are different versions. It's always cool to watch the crowd react to that because it's something they know, but it's slightly different.
It was also a nice opportunity for me, as a producer, to dig back into old stuff and see how I could bring that back in 2022. If I look at how my music has progressed in the last seven to ten years, there's obviously a change.
So, when you do an all-original set and you want to dig back into those things, you have to find a way to make them work in a set. It was a cool change for me to jump back into old projects and bring some of them into my sound of 2022.
EDM Maniac: You worked on customizing your own visuals to pair with your sets. Can you walk us through the process of assembling the visual component of your tour? 
Kyle Watson: We had the actual art designed by an illustrator in South Africa and he just gave me the file. I wanted to make sure that the art people saw on the flyer and ticket link was on my screen.
It's [all] literally pieces of the tour announcement art. Sometimes you'll see a tape machine turning, or a speaker getting duplicated across the screen.
Basically, I just broke up the art into individual elements. Luckily, there was a lot of stuff to work with because the whole idea is based around all these different pieces of production equipment, so I was able to isolate and move things around and duplicate them, so when people saw my set, it tied right back to the tour announcement.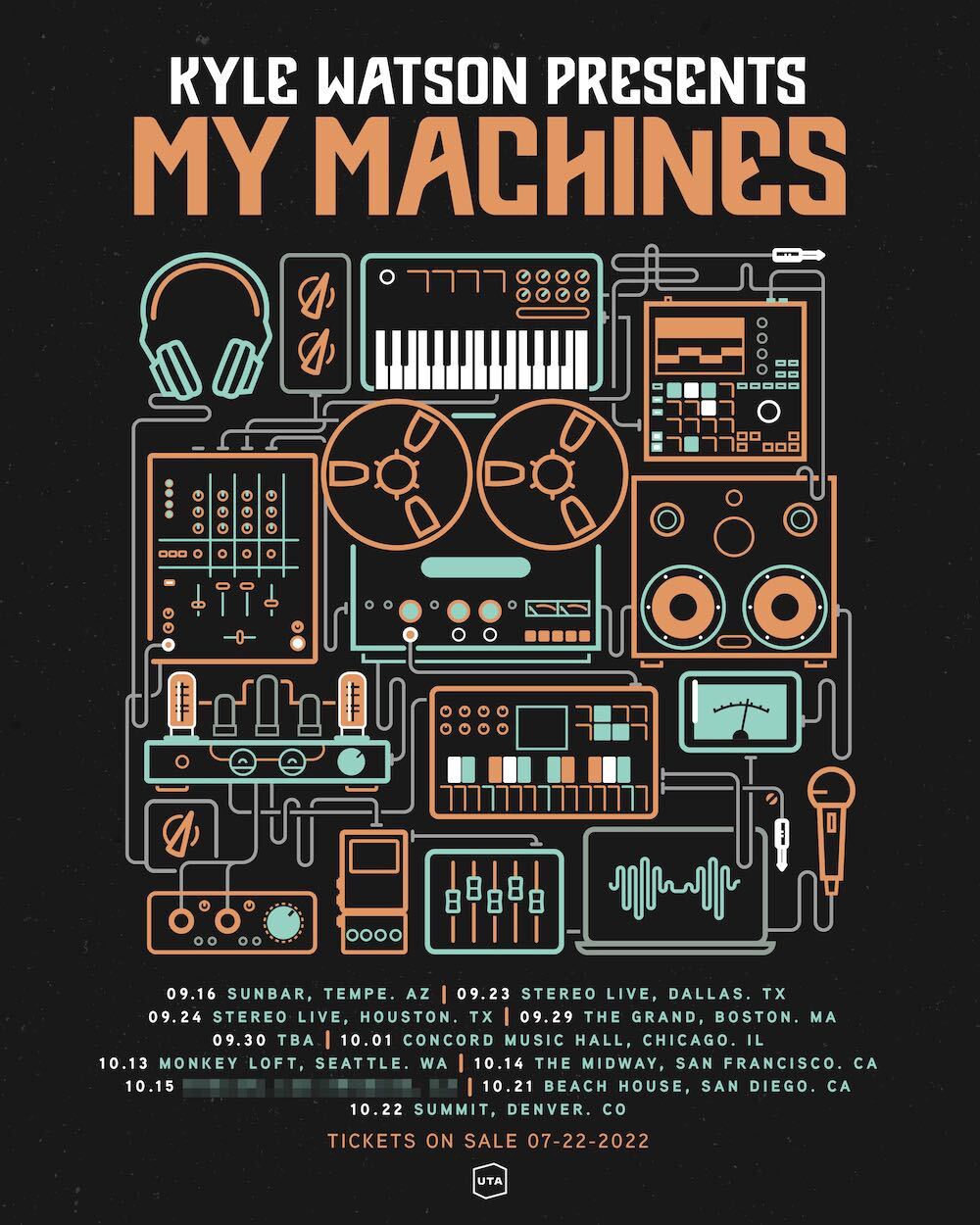 EDM Maniac: What moved you, Wongo, Jeff Doubleu, Jak Z, Tom EQ, and Marc Spence to create the indie label 'Box of Cats?' Where did this whole feline concept come from?
Kyle Watson: It happened really organically. Somehow, we all ended up on a Facebook message group and were like "why don't we start a label?," because it [was] really hard to find the type of music that we liked. We all came from a certain era of house music, like 2009-2011, and the house music we like is influenced by that period.
I think it may have been Tom [that came up with the name]. You know when you go "boots and cats and boots and cats," *laughs* that's how 'Box of Cats' came about.
We just launched the service called "Nine Lives Club" in mid-October, which is a subscription-based service where you pay monthly and get benefits. The whole idea is built around the fact that smaller artists don't get much money for their work because streaming revenues are so low, so the profits for this subscription model get paid to the artists. We [also] release exclusive tracks and edits to subscribers.
EDM Maniac: How do you think growing up listening to metal influenced the way you produce house music?
Kyle Watson: I still listen to it. I love that shit. In my downtime, 90% of the time it's rock, metal, and stuff like that. But, I don't know if it necessarily [had an] influence. I mean, maybe it did indirectly because one of the things I love about electronic music is the aggression you can get out of some of the songs.
Honestly, in the last couple of years, hip-hop [has been inspiring]. I listen to a lot of Timbaland, Missy Elliott, and when I'm listening to that, I'm thinking of the way they're producing. I pull a lot of inspiration from the way they take normal, acoustic instruments and repurpose them into these little chopped-up sounds.
EDM Maniac: What are your plans for after the tour? Is there any new album or EP in the works? 
Kyle Watson: On the show front, I'm doing a show with John Summit at The Concourse Project in Austin, Texas on Saturday, October 29. Then, I spend a bit of time at home and go to South Africa to do a tour, which is cool because that'll be the first time I'm back since 2019.
And then on the music front, I have a track coming out on the 28th of October called "The Reason" on Sink or Swim. I wrote it before the tour started so I had a few opportunities to test it out. Fisher and Chris Lake have been supporting it, so I'm looking forward to that coming out.
There are other things in the works, too. I'm sitting on a lot of music right now.
Check out Kyle Watson's new track "The Reason" below: