Sullivan King makes music to rage to. The producer, guitarist, vocalist, and songwriter fuses two of the most aggressive genres out there: dubstep and metal. His unique sound has landed him headlining slots at festivals like Lost Lands and Nocturnal as well as shows at the iconic Academy in LA. A fixture in both the electronic music scene and hardcore industry, he's worked with some of metal's greatest like Aaron Gillespie of Underoath to Jason Aalon of FEVER 333 as well as bass kings Excision and Subtronics.
Now two years after releasing his most-streamed single to date, "Someone Else," the guitar-thrashing, artist returns to Monstercat. Collaborating with viral "Laserbeam" producer Ray Volpe, the duo combines earth-shattering screams and destructive drums on "The Dead March." This track feels like a 90s metalhead's dubstep dream.
We got to sit down with Sullivan King before his incredible set at Nocturnal Wonderland 2022. His wild head-banger hair tamed into a ponytail, we got serious, talking about his love for metal and working with his buddy Grabbitz. Read below:
Image provided by Monstercat Press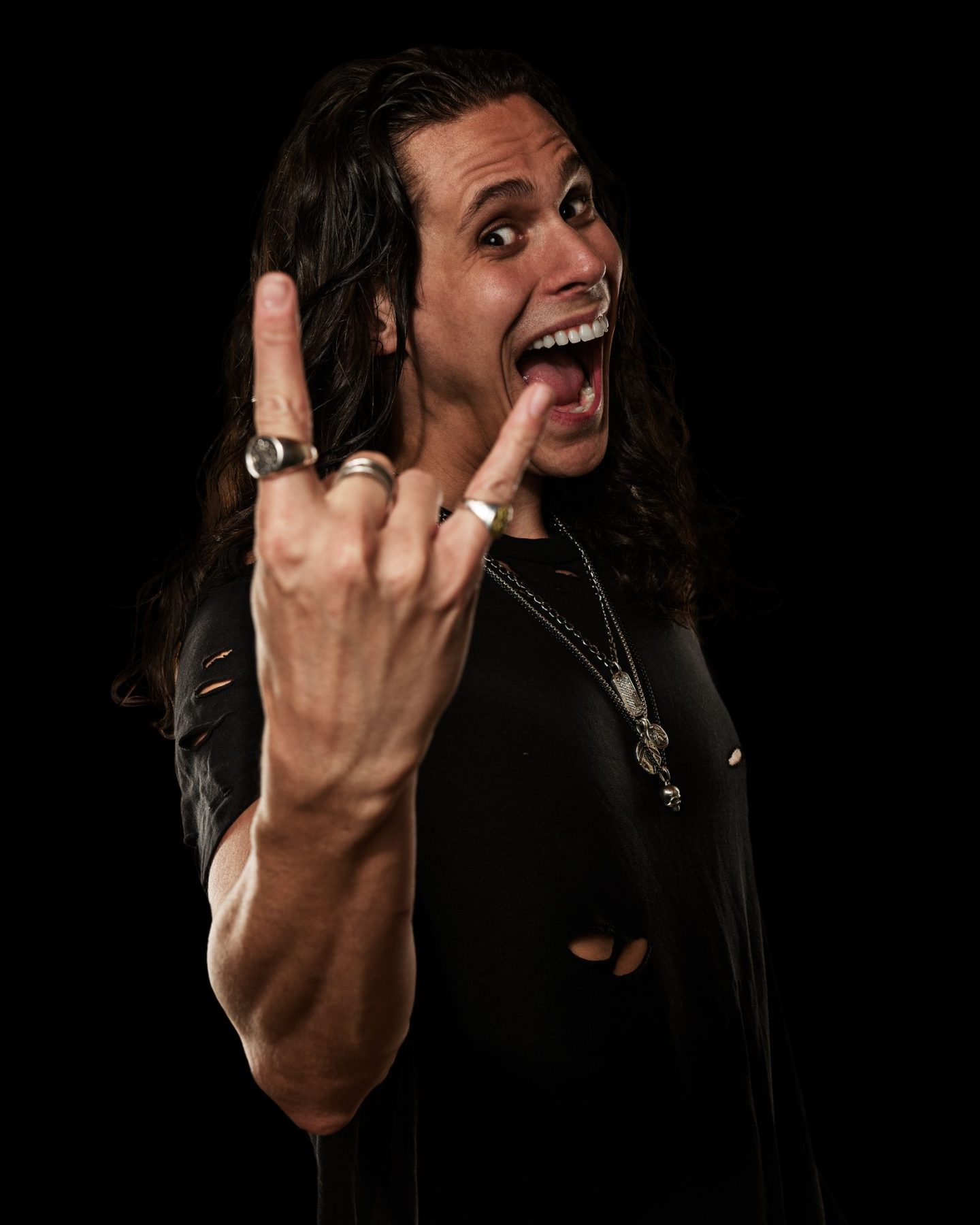 EDM Maniac: Your sound is the perfect blend of hard-core metal and bass EDM. How did you craft your sound?
Sullivan King: A lot of years of absolute hatred and confusion for everything that I make. No, I'm kidding.
It's one of those things where when I started making this music, it was what I wanted to hear. I would go on Soundcloud and know I loved dubstep and thought it would be cool see instead of bands implementing electronic sounds, a DJ that adds the metal side of things with drum fills and crazy screaming vocals. It was then a lot of years of dialing it in until it made sense. 
EDM Maniac: You went to the highly respected Icon Collective Music Production School in Los Angeles like fellow DJs Jauz, NGHTMRE, SLANDER, . Do you feel the traditional background has influenced your production process today? 
Sullivan King: Definitely not. I learned a lot from destroying and re-learning what I've learned over the past few years until it clicked and made sense. Especially since what I make is so different from what's typically out there.
But every now and again I find people who have had some sort of education there who I'll work with like Benda who went for a semester. 
EDM Maniac: You've mentioned in previous interviews that Grabbitz is one of your best friends and you've worked with him several times on tracks. What's the process like working with someone you have a super close relationship with?
Sullivan King: That's my boy! Grabbitz wasn't really somebody that was into collaborating as he has his own ideas and he loves to see them come to fruition. But we bring each other up and let each other's ideas shine and still stay true to our own direction.
A lot of the time you go into the goal of making a "dubstep" tune that's a "here's my section to work on and here's yours." Whereas with Grabbitz, it's about doing something new and pushing the envelope. We work great together and have never wrote something in separate rooms. 
EDM Maniac: Who's your current favorite up-and-coming artist? 
Sullivan King: In the dubstep world, Vastive, Layz, Benda, Imanu, and TVBOO.
In the rock world, I Prevail, Pierce the Veil (all the "veils" really), and Spiritbox. A lot of that really influences me a lot.
I love DnB but I don't know enough of it. I love Reaper and Kumarion, but I just don't always get around to listening to it as much.
EDM Maniac: You recently became a father (congratulations), has tour life changed since having a kid and, for new artists looking to start a family, what should they know?
Sullivan King: I don't think touring has changed too much, but I definitely want to be at home more often.
It's a lot of making sure my wife has everything she needs and feels supported. I haven't slowed down on touring but it's making sure you have a team that helps to plan to take weekends off for important events like my kid's first birthday. 
EDM Maniac: You've had a big 2022 already, but what can we look forward to later this year or in the future? 
Sullivan King: A fuckload of touring and a fuckload of music. We're going to take some time off in the winter and then it's back on the road for some cool shit. 
EDM Maniac: Serious last question, how do you take care of your voice? I can imagine all of that screaming puts your vocal chords through the ringer, so how do you take care of them?
Sullivan King: I don't do anything. Lots of gummy bears.
But the number one thing is to try and be quiet. I don't want to yell over the music at side stage because that's what ruins it. Because you're not supposed to be yelling with your vocal chords or muscles. It's also avoiding dust, sleeping, and staying hydrated.
I only had one issue when I was sick on the road and when I was recording "Unbound" with Excision. It was just an instrumental and people were saying how cool it would be to have a vocal even though it was supposed to come out two weeks later. So we scrambled and for three days I was screaming in the studio. I couldn't scream for like a month, but luckily we had no shows lined up.
Featured image from Sullivan King