If you are familiar with the Arizona dance music scene, there's a good chance you've heard of Rawhide Western Town & Event Center.  By day, it's a quaint little town where you can experience the cowboy lifestyle with vintage photo booths, gold mining, and any other stereotypical activity you see in Western movies. However, by night, this venue is flipped into a dance music mecca known for hosting festivals such as Decadence AZ, Global Dance Fest, Goldrush, and Phoenix Lights. Relentless Beats, the group responsible for this dance music empire, became a staple of the EDM community in Chandler, Arizona. The lineups are insane, the visuals are extravagant and the attendees are wild.  The next time someone says there's nothing to do in Arizona, feel free to put them in their place.
When the pandemic came, the dance community was hit hard. For a lot of us, these festivals are our motivation to get through finals week or the highlight of a mundane month. It seemed impossible to think that we were going to get such a big piece of our lives back anytime soon. Thankfully, Relentless Beats refused to let that happen. Their team worked hard to find a safe and fun way to experience live music. The Pod Rave Experience has pioneered the new era of raving, and we want to tell you how. We have outlined the most common questions about the Pod Rave Experience, answered by ravers who have actually experienced them!
What is a Pod Rave Experience?
We asked ourselves this very same question before the first event. It's such an unprecedented idea. We are all so used to entering an event and sprinting directly to the rail to dance the night away with a crowd of thousands of people. However, with social distancing guidelines, that is clearly not possible.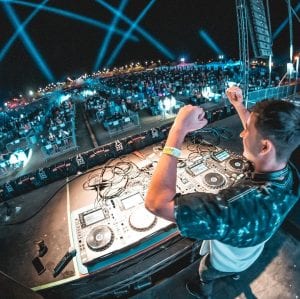 So how can a festival with hundreds of guests and only one stage be possible in a time like this? Well, it's possible because Relentless Beats created a new breed of raving. Each Pod Rave Experience has over 20 rows each 6 feet apart. Each row has its own designated porta-potty, complete with security to make sure that the lines are socially distanced. Inside the rows, there are sectioned off "pods" that are available for groups of up to 8 people to purchase. The pods are 6 feet apart from each other and each comes with their own railing, trashcan, and 8 by 10-foot square to dance in. To all of our fellow bassheads, you read that right. You get your own personal rail to headbang on.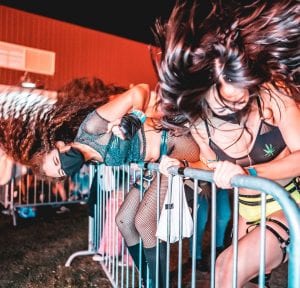 However, these shows aren't just for dubstep lovers. At each event, there are 4 artists that play throughout the night. So far, we've seen headliners such as Party Favor, Subtronics, Kayzo, NGHTMRE, and Deorro. Along with the headliners, there are awesome supporting acts like Level Up, Walker & Royce,  Boogie T., and Monxx. Each rave also allows local talent to open up the event, which is pretty cool in a time where smaller artists don't have as much of a chance to share their music.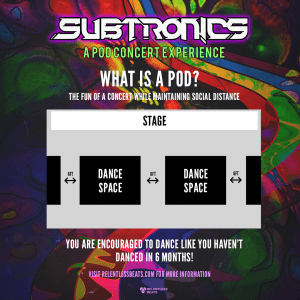 Relentless Beats does their best to make you feel safe and prepared for each show. On their website, they outline exactly what rules and regulations are being put into place to make sure that you are safe and ready to rage.
Is it actually safe?
The most common and pressing question during this time is, "how do I know I will actually be safe at one of these things?". In our experience, we felt extremely safe. The entire duration of the time you are at Rawhide, every employee, security, and guest is wearing a mask. Once inside the gates of the festival, security keeps each group 6 feet apart from each other throughout the entire line process.
Before you can even get your wristband, security takes the temperature of everyone in your group. When it comes to the pat-down section, attendees have to bring clear bags so security can see what you are bringing without having to dig through your stuff. When actually patting you down, each security guard that comes in contact with you is wearing gloves and a mask.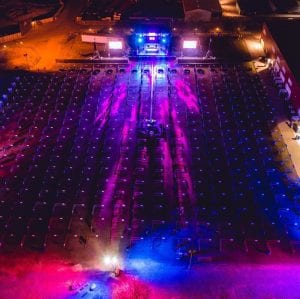 Once inside the festival, you are given a wristband that says the exact row and pod you are supposed to go into. Security regularly checks the wristbands of the people in each pod to make sure they are in the correct space the whole time. The only time you are allowed to leave the pod is when you are using the restroom. It might seem a little intense, but their reasoning is good. They want to make sure that if anyone is sick after the rave, they can reach out to the pod they were in and quickly let them know if they were exposed.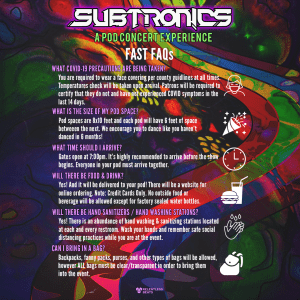 But, what if you want merch or drinks? They've got that covered! You can order any food, drinks, or merchandise online and they deliver it straight to your pod. This is not only great safety-wise, but you also don't have to miss any artists while waiting in line! Furthermore, at the beginning of the festival, each pod is given a few small water bottles and chips to hold them over until their ordered stuff comes in.
However, it wasn't always smooth sailing. At the first event, there were so many orders that the staff couldn't deliver all of them. Some guests got their orders hours later, and some didn't get them at all. You were refunded, of course, but it was still rough having no water for an entire event. However, at later events, they began allowing you to bring in literal cases of water and employed more staff to deliver your purchases. By the last event we went to, it only took a matter of minutes to get what you bought.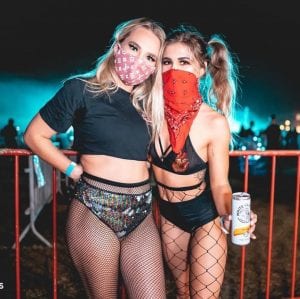 The only time where we felt like the show should've been safer was in the line before entering the festival. At the first pod rave experience, it was a first come- first serve basis for the best pod location within the row you purchased. In order to get the center pods, people began lining up way before the actual rave began. The line leading up to the venue did not follow socially distanced guidelines. While this is mostly user error, we feel as though more security could've been put in place to enforce safety. That being said, in the following events, Relentless Beats now allows people to purchase a specific pod. By making it so people did not have to arrive early to get their spot, they reduce the issue of having a huge crowd of people waiting in line before the event.
Finally, the whole time, there was security and staff everywhere. They made sure that people were not traveling from pod to pod and that everyone was wearing a mask. If you ever had a question, you could find someone immediately who could help. And, when the festival concluded, the staff came row by row to release the attendees to reduce the size of the crowd leaving the event.
What is the actual show like?
Nothing compares to an actual festival, but wow are there some perks. One of our favorites being that you can set your stuff down and dance freely in your own personal space. Because the events are so heavily staffed and separated, you don't have to worry about crowds or someone walking away with your stuff. If you get tired, you can even sit and enjoy the view with your feet up. Plus, for the lucky ones in the first row, you actually get your own comfy couch to watch on.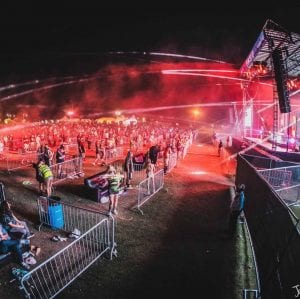 One of the coolest things about these events is that it has the same production value that any pre-pandemic festival had. There is a massive stage in the front that spares no expense with its lasers, lights, and sound quality. That being said, in the back rows, you are fairly distant from the stage and can definitely see less. However, that just comes with making sure that everyone stays safe.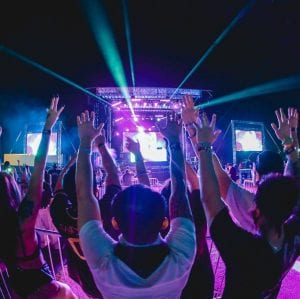 Finally, and most importantly, you are what makes these events great. If you do come to a pod rave experience, make sure that you are following the rules and keeping each other safe. If we want to continue seeing live music, it is vital that everyone does their part to make sure that these events continue to run smoothly and safely. Relentless Beats has put so much time and effort to bring a piece of our community back, and it's up to us to respect their efforts.
If pod rave experiences are still not your thing, that's perfectly fine. We want everyone to do whatever makes them feel best. However, if you were interested but didn't know if it was worth going to, we hope this soothed your mind. We can't wait for the next show, and we are excited to see you there!
Featured photo by @relentlessbeats