This past weekend we attended LED Presents' first anniversary event since February 2020 at Rady Shell at Jacobs Park.
The two-day concert was supposed to take place at Petco Park, but was changed last minute to Rady Shell after "circumstances beyond their control," and we are so glad they changed venues.
Rady Shell is one of the most gorgeous venues in all of San Diego, surrounded by water, boats, and the downtown skyline for a sunset view of the marina every night. The ramped park was perfect for viewing the stage wherever you wanted to be and there was plenty of room to move and dance.
The bars, local food, and bathrooms were just below the main stage meaning no overlap between those trying to buy and those trying to party and there was never a line longer than five minutes for anything.
Ride share was a breeze as the venue let cars get right up to the front gates. Although, the street took cars through an industrial area meaning trucks lined the side street during the day. And while this was a bit inconvenient until around 5PM, it didn't seem to cause any issues leaving the venue.
While Petco Park is known for its CO2 cannons, multiple screens, and booming sound system, we had no idea what to expect from Rady Shell.
The production was minimal, but high quality. And while we wished there were at least a couple of lasers, the visuals were clear through the one large screen and carefully thought out by each artist.
We felt all visuals were truly impactful with deadmau5's signature mouse head dancing and REZZ's spirals sending us into hypnosis.
The sound was also incredibly loud despite the wind blowing at gale-force speeds, a feat that many ravers who went to EDC 2021 are no strangers to.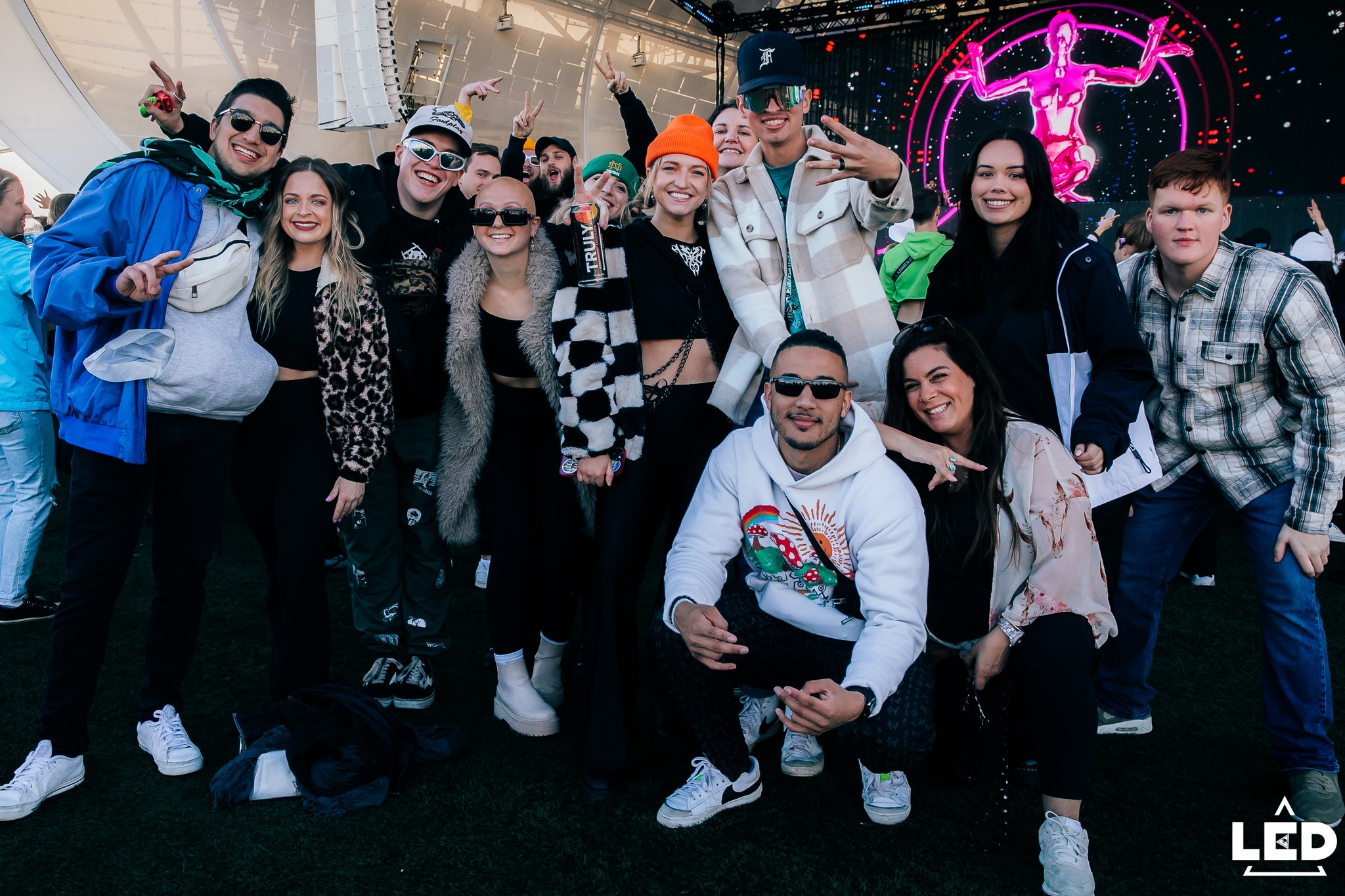 The loud sound must have inspired the artists because Ghastly, Madeon, and REZZ all played unreleased music with REZZ saying it was her first time ever playing some of these tracks to a crowd.
Matroda sent the crowd into absolute feral mode and they ate up Blanke's drum & bass. William Black into Madeon was melodic heaven and had the crowd singing along to so many songs including Seven Lions to "September" and Madeon and Porter Robinson's "Shelter."
Then deadmau5 closed with an industrial energy perfect for the pouring rain with a sexy, dark intro reworking "I Remember." He played many nostalgic classics like "Bridged By A Lightwave" and newer favorites the Spencer Brown remix of "Escape" by Kx5
But the crowd was the true highlight of LED's anniversary. Everywhere we went we saw nothing but people who wanted to spread love, create community, and have a good time. It felt like a local block party where everyone sort of knew each other or was just looking to be friends with their neighbors.
We kept saying there was "feral" energy in the air because no one was on their phone and just wanted to go nuts before the rain kicked up again. We also heard and saw no reports of phones being stolen, a first for this reporter's festival career.
And surprisingly, the staff was also one of the most fun and welcoming we've ever experienced. The bartenders, security guards, and food staff went out of their way to dance, talk to attendees, and make sure everyone was having a good time.
They stayed close by, talking and grooving without sacrificing any safety measures. We even had several fun conversations with security while they thoroughly searched our bags and used metal-detecting wands.
There was also staff stationed right outside the bathroom in case of emergencies. We saw a girl go into the bathroom who wasn't feeling good and within three seconds (not an exaggeration) security was in there to help her out.
There were ambulances and firetrucks right next to the entrance ensuring that if there was an emergency, help would be on the way shortly.
Despite all of the good, we saw some unacceptable reports of LED Anniversary's ADA accommodations. We asked many staff members where to access the ADA entrance or accommodations, but no one could tell us where it was.
This was even further echoed on social media when a Twitter user showcased a singular tent with no seating in the very back of the venue. It felt like they were shoving those with accommodations in the corner nowhere near the rest of the crowd.
Furthermore, the AstroTurf floor was incredibly slippery with no coverage once it started raining and anyone with mobility issues would have struggled.
We heard also heard there was no ADA entrance and everyone had to wait in the regular line, which would have been a serious problem for anyone with issues standing for long periods of time.
LED Presents did respond immediately to these claims on Twitter asking for more details on their experience and hopefully learning how they could do better.
Overall we had a blast. This smaller event showcased why the San Diego rave community feels like home and why artists, staff, and attendees keep coming back.
But for an event at a regular venue that LED has utilized before, we expected better and clearer accommodations for those who need greater accessibility, especially when the venue definitely wasn't at capacity. And while we had a great time during the event, we just can't forget about PLUR for all when we come home from the festival.
All images from LED Presents