Two of the most popular music genres these days are hip hop and tech house. Seemingly unrelated, they are popular for a reason, and MASF has managed to incorporate elements of both into their hit song "Let's Be Hoes" with Burn1 on Orlando's own House Keepers Records, and into their DJ sets. Due to tech house stealing the spotlight recently, producers and DJs of this genre must truly rise above and offer something special, something no one else has. Twins Alex and Michael Marante are accomplishing just that, as we speak. Determined to create a versatile sound that mirrors their hometown, Miami, they've used their knowledge of old school Chicago house, modern day hip hop, and trap to shake things up a bit.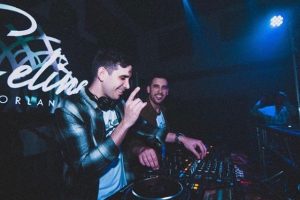 Walking through the forest at Asteria Music Festival in Haines City, Florida late into the night, a rare compilation of bass and enticing noises could be heard reverberating through the trees. After hearing "Let's Be Hoes" and noting their name on the lineup, I knew MASF was a must-see for the weekend. I entered the area with high hopes of hearing that song, but left with so much more. Believe me when I tell you, MASF's set rivaled that of Dirtybird producers, and I knew I had to keep an eye on them as they establish themselves within the scene. Today, I sat down with them to get the tea on the local house music scene, and how they plan on using the tools they've been given to become globally established artists.
What genres and artists got you guys into dance music when you were younger?
At 9 years old, we discovered breakbeats and freestyles, and soon after found ourselves interested in trance and tribal house. At 14, we found ourselves looking up Daft Punk on Limewire (lol, the good old days) after hearing "One More Time" on Cartoon Network's early morning cartoons, which eventually led us to Armin van Buuren, Tiesto, and you know, the same guys that probably got you into dance music as well.
What was the first genre of music you produced?
We started out as a duo called Identical, since we're identical twins, and initially produced a tribal trance song. More recently, we changed our name to MASF.
How would you describe yourselves?
We're just two silly, wacky guys who want to rep where we came from through our music. We have really big hearts and hope our fans can see that when we're on stage.
What drew you towards the tech house scene, and how did you decide to focus on it in your songs and sets?
While admiring artists like Sage Armstrong and Oscar G, we linked up with Burn1, who introduced us to Bruno Furlan's music, and soon after, we found ourselves incorporating tech house into "Let's Be Hoes", and our sets. We produced the song in our room on two TV dinner tables, and did not expect it to gain as much traction as it has.
Who guided you on your path to becoming producers?
GTA, definitely. We owned a promotional company back in the day, and Matt from GTA was a DJ and promoter that we worked with. We saw GTA develop from the ground up, and when we first started producing, Matt encouraged us to keep trying, even though Ableton was difficult in the beginning, he said "just do it, and you'll figure it out as you go".
Who would your dream collab be with, and where do you see yourselves in the near future?
The Martinez Brothers would be sick, and GTA of course. We see ourselves travelling, networking, and curating songs on many different labels. We are so blessed to have met the people we have so far, and can't wait for what's in store. We are going on tour soon, so look out for details on that, and we also have a few surprises in the mix, coming soon.
Hearing is believing, my friends, and I encourage you to find yourself at a MASF set very soon. You can do so June 7-10 at HomeBASS Summer in Orlando, Florida at the Avanti Palms Resort, where the party will just keep going all night long. Get your tickets here, and prepare yourselves for a MASF time.