Are you ready to blast off for a night of interplanetary partying like no other? One of the hottest DJs and producers in the game, Lee Foss, is bringing his iconic party series Repopulate Mars to Los Angeles at the one and only The Academy LA. Landing in the heart of Hollywood, Lee Foss has enlisted a top-tier roster of DJs: eclectic jet-setter Lauren Lane, tech house titan Latmun, star-on-the-rise Max Chapman, and house music legends Prok & Fitch. Rounding out the lineup is L.A. club staple Kaysin and dance music duo Lisbona Sisters.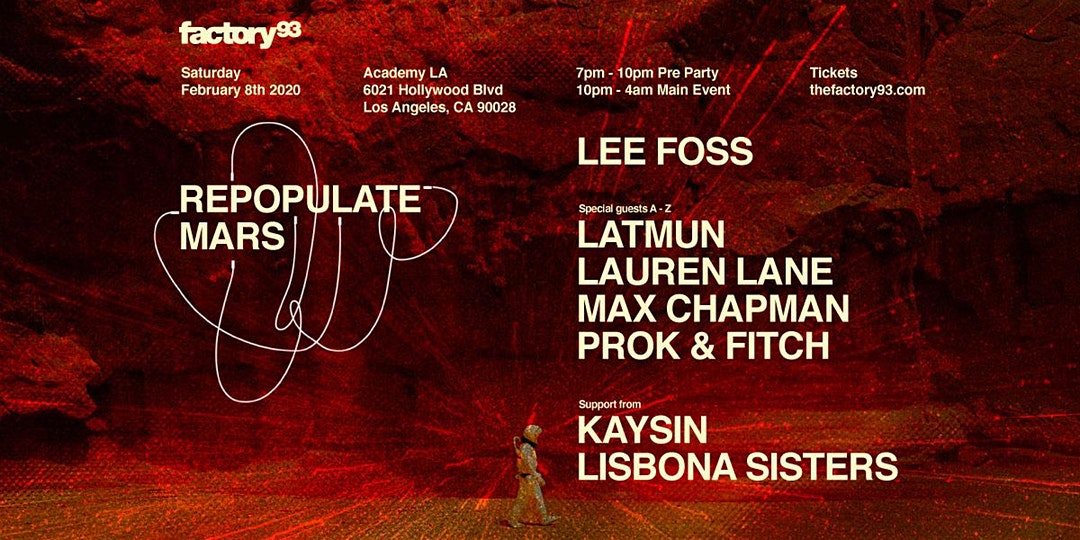 Repopulate Mars is known for its boundary-pushing, extravagant, interstellar parties taking shape in iconic venues from Los Angeles to NYC to Miami and beyond. You'll be transported to the surface of Mars where there is no life except the life of the party. Chic space aliens will move and groove to the frequencies being played and will command you to do the same. It's time to leave the earth behind and Repopulate Mars!
Repopulate Mars is landing at The Academy LA in Hollywood on Saturday, February 8th from 7pm – 4am. Tickets and more info are available here. Come early, stay late, and be prepared for a galactic good time.
FEATURE PHOTO: REPOPULATE MARS