Calling all lovers – A Club Called Rhonda, the infamously sexy, sultry international club night touches down this Valentine's Day Weekend at Catch One for Rhondavous: A Lovers' Ball. MATTE Projects and Rhonda INTL are coming together to produce a one night festival featuring an extensive lineup of world renowned DJs at one of LA's most treasured underground clubs. Catch One, formerly known as Union, will once again play host to Rhonda with 5 rooms full of sound, art, and motion. 
For many, Rhonda represents so much more than just another night out. Rhonda is a living entity; she represents freedom of expression, a reprieve from the mundane, and an endless world of passion, pleasure, and possibility. She is a safe haven for the LGBTQ+ community, a gathering space where all are welcome and none are judged. Over the years, Rhonda has traveled all over the globe and come to life in many forms: The Sound of Rhonda, Rhondesia Nights, Rhondavous, Rhonda – Queen of the Desert, and so on.
As a home for the new age club kid, Rhonda has always pushed the boundaries when it comes to artistry – visually, audibly, and physically. That's what makes the musical selection so enticing, it combines some of what we know and love with what many have never heard of before to create an entirely new, fresh experience each time Rhonda comes to life.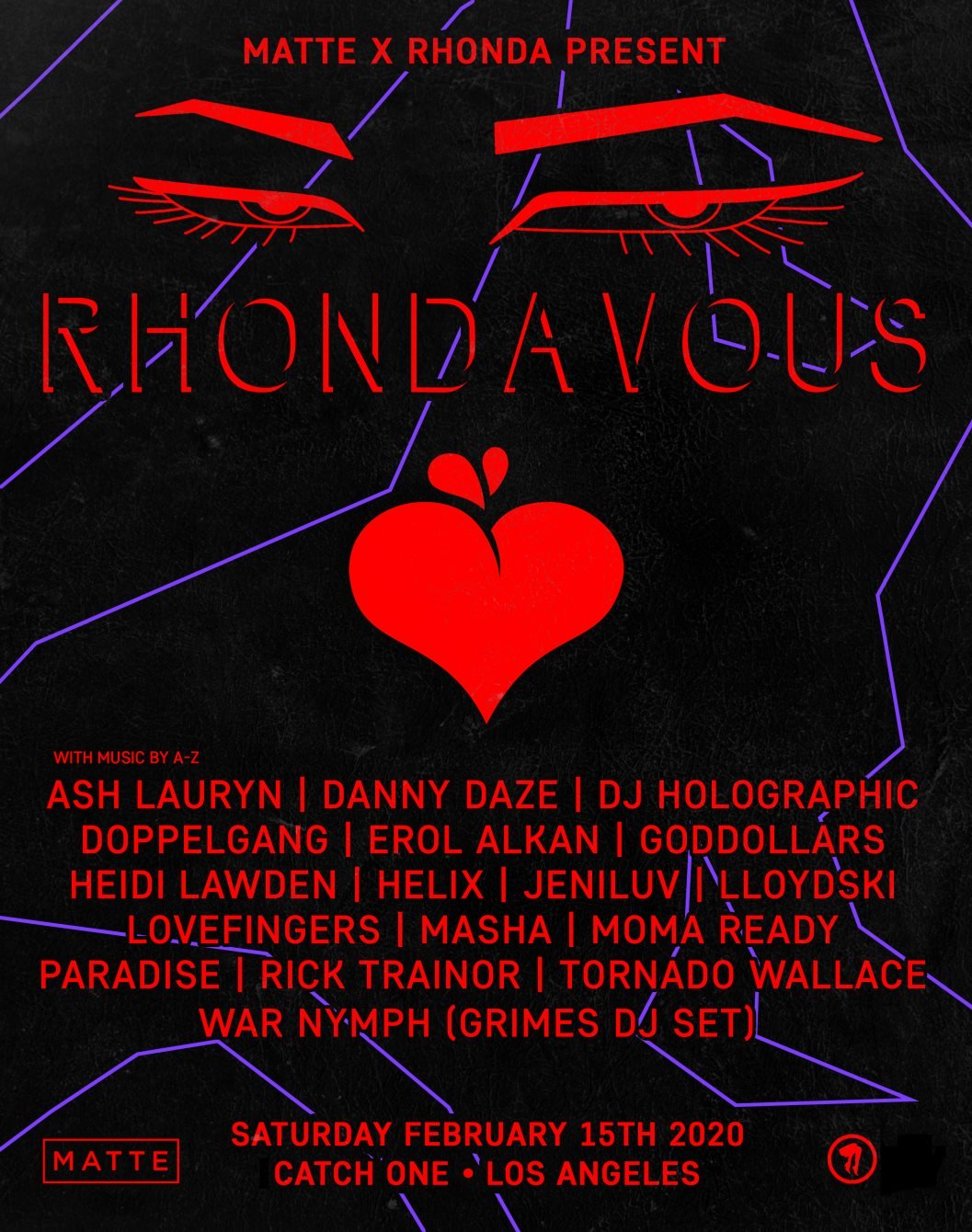 The lineup for A Lovers' Ball is as heavy hitting as it is eclectic, showcasing a plethora of some of the world's most respected, talented, and passionate artists. The aforementioned includes Detroit underground curator Ash Lauryn, Miami techno legend Danny Daze, dance music rebel Erol Alkan, Rhonda founder and resident DJ Goddollars, international icon Heidi Lawden, and what is sure to be a very special DJ set from War Nymph (Grimes' newest alias) along with the rest of the exquisite taste makers that await us. 
Rhondavous: A Lovers' Ball will take place on February 15th, 2020 at Catch One in Los Angeles. Tickets and more info available here.
FEATURE PHOTO: MICHAEL MENDOZA