It's full steam ahead for Ultra Music Festival 2017, as the "World's #1 Music Festival" celebrates an outstanding sold-out event for 2016.
Fans with intentions of attending ULTRA's 2017 festivities in Miami may want to register here for a spot in an exclusive limited flash sale scheduled for May 9th, 2016. Starting at 1PM EST, those who registered in advance will have the opportunity to purchase tickets at prices frozen from 2016's promotion. Tier 1 and Tier 2 Early Bird tickets (available only to those registered) will open at the shockingly low prices of of $249.95 and $299.95. Tier 3 tickets will be available to the general public through the duration of the flash sale at $324.95, on a limited basis. Registration for the limited ticket sale closes at 11:59PM EST on Saturday, May 7th.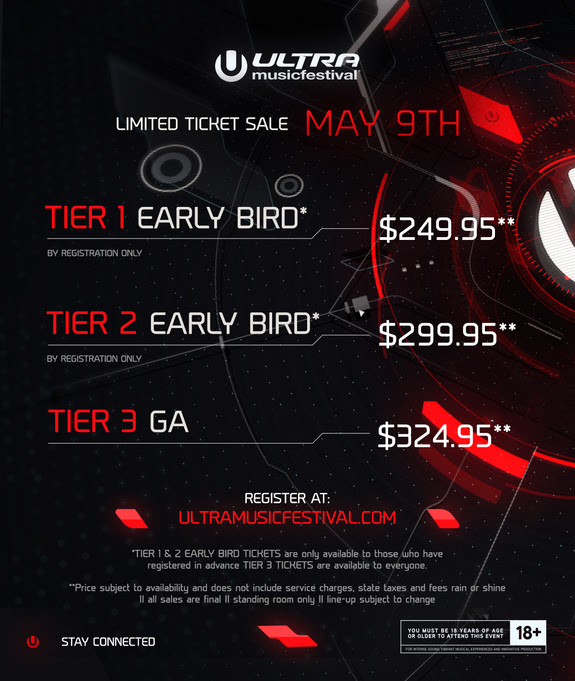 Ultra Music Festival 2016 welcomed more than 165,000 people to Bayfront Park for one of the event's most successful years to date. In fact, just last week, DJ Mag announced Ultra Music Festival as the "World's #1 Music Festival," winning with over a half a million votes. And now, in an effort to commemorate the memorable year, Final Kid AKA Charly Friedrichs captured all the magic of 2016 in a breathtaking new 4k, complimented by the sound of Kidnap Kid's "Moments". Friedrichs said, "For me as a filmmaker it's all about capturing the "MOMENTS" in the most cinematic way and then pairing it with the right soundtrack to transcend the experience. That's what this clip is all about and it's a good visual taster of what is to come in the official aftermovie later this summer!"
Check out Final Kid's video below, and be sure to register for the exclusive flash sale opening on May 9th! As the newly titled "World's #1 Music Festival," you can expect the demand for 2017 tickets to be more than expected!