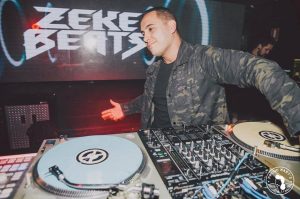 Last year in preparation for Electric Forest I was making this MASSIVE playlist with all of the artists on it. A couple weeks shy of the festival I was nearing the end of the lineup and came across a guy named Zeke Beats. I unsuspectedly looked up his music and the first song I came across was called Meltdown which is ironically the reaction I had to it. You ever start screaming when you hear a super filthy track for the first time? I do, and I definitly did with Zeke Beats shit. Turns out I wasn't the only one who was completely floored by this track; it's what sparked Zeke's uprising in the scene back in 2016.
My friends and I kicked off our second day in the forest with Zeke Beats (fun lil Boomerang from his set above) set and it was pretty dope. Even though it wasn't as rowdy because it was during the day it was probably one of my favorite sets of the weekend because I could literally feel the bass lines run through my bloodstream. **shutters** Ooooohhhh it still gives me the shivers thinking about it.
I got to hear another one of his tracks at the end of the weekend, not played by Zeke Beats though, but by Bassnectar during his infamous set at the Ranch Arena. I was pretty amped about that; I love seeing super talented DJs getting the recognition they deserve from big names like Nectar.
I continued to listen to his stuff and follow him after the festival. He dropped a pretty nasty track back in the fall called Yuck and soon after began teasing to a couple more new sounds on his Instagram story. I replied to his Insta story with the drooling emoji asking, "When will this gem be out?!" He responded, "On my next EP, about 2 or 3 months away." Well y'all, those months have passed and Devastate EP has arrived!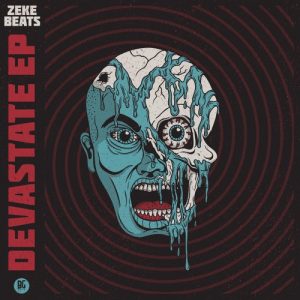 Zeke Beats Devastate EP was released on February 9 on Buygore Records (whose Insta story was taken over by the Australian producer the day prior as he talked about everything from his new release to his love for Vegemite lol) Its four heavy, multi-layered tracks prove that the best kinds of releases are quantity over quality. Simply speaking, it only takes four songs for Zeke Beats to take you on a face melting sonic journey through his signature analog basslines and filthy high-pitched futuristic kicks. Here's a quick break down from my perspective:
Devastate
The EP kicks off with a title track that showcases the signature grimy Zeke Beats sound. It begins with an ominous build up that drops deep into the electrifying siren ringing chorus. An intense echoing comes back and punches you in the mouth, as the track literally yells WHAT THE FUCK for you.
Static
The menacing intro builds up the hype for this track. A recent press release said this EP, "boasts a dramatic soundscape" and that's super evident in this track. It's dark then instrumentally harmonic toward the end. You can hear the static in the sinister drops.
Chaos
Zeke Beats teamed up with Aussie bass genius Blanke to create this track. It begins with a structured sound that is quickly demolished by loaded low-level bass lines. My favorite part about Chaos is that it's never what you expect. Each buildup seems the same, but then I'm bamboozled by each drop that's built upon to be filthier than former.
Hypnotize
In the words of a recent press release, the finale on this EP, "emulates the more playful side of bass music and showcases his technical talents from one end of the spectrum to the other" Zeke joins forces with Shaman on the track which comes in hot with heavy bass lines and formulaic crescendo that drops into an edgy, but fun outro.
While listening to this EP, I felt like Zeke Beats uses his "analog synth wizardry" to take me on this expedition that first completely wrecks my shit and then puts it all back together. It's definitely a must listen, if you haven't already.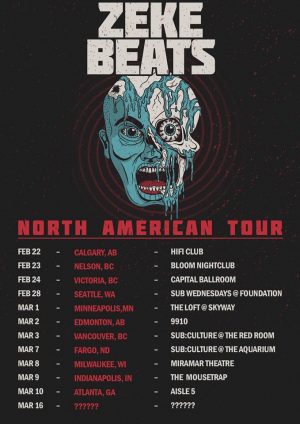 Zeke Beats is embarking on an accompanying Devastate Tour (packing some serious pk sound) across North America, from Canada to Washington to Georgia. Tickets are already on sale.
I feel like it's about to be a big year for Zeke Beats. Dude already did pretty well last year, topping the iTunes electronic rankings chart with Dispatch EP (another must hear yo). He's already working on a couple new projects including a new collab with Eprom. He also just announced that he will be at EDC Las Vegas this year. Stay tuned guys, I think Zeke Beats is a name you'll be seeing a whole lot more of in 2018 and beyond!
Feature image courtesy of Zeke Beats Facebook page