It's that time in the Fall when candy, spooky decorations, pumpkin carving, and costumes are in high demand: Halloween season.
This is also a time when Insomniac's biggest Halloween rave, Escape, prepares for ghouls, ghosts, and all sorts of freaks to trickle in through their gates at the NOS event center on Oct. 28-29.
For the dance music community, putting on their scariest, most freakish costumes and dancing is the plan for hallows eve instead of trick-or-treating, and since 2011, Escape has secured a fitting lineup and created a haunting atmosphere that pairs with the hair-raising energy of this sinister weekend.
This year's roster includes artists like Anfisa Letyago, Nina Kraviz, Sidepiece, Eli Brown, Radical Redemption, The Prototypes, and other sought-out acts.
Apart from the spine-chilling music, Escape offers art installations, carnival rides, cosplaying and spooky crafted drinks as a part of the festival's experience.
Here are EDM Maniac's 6 festival tips to make sure you make the most out of Escape Halloween 2022: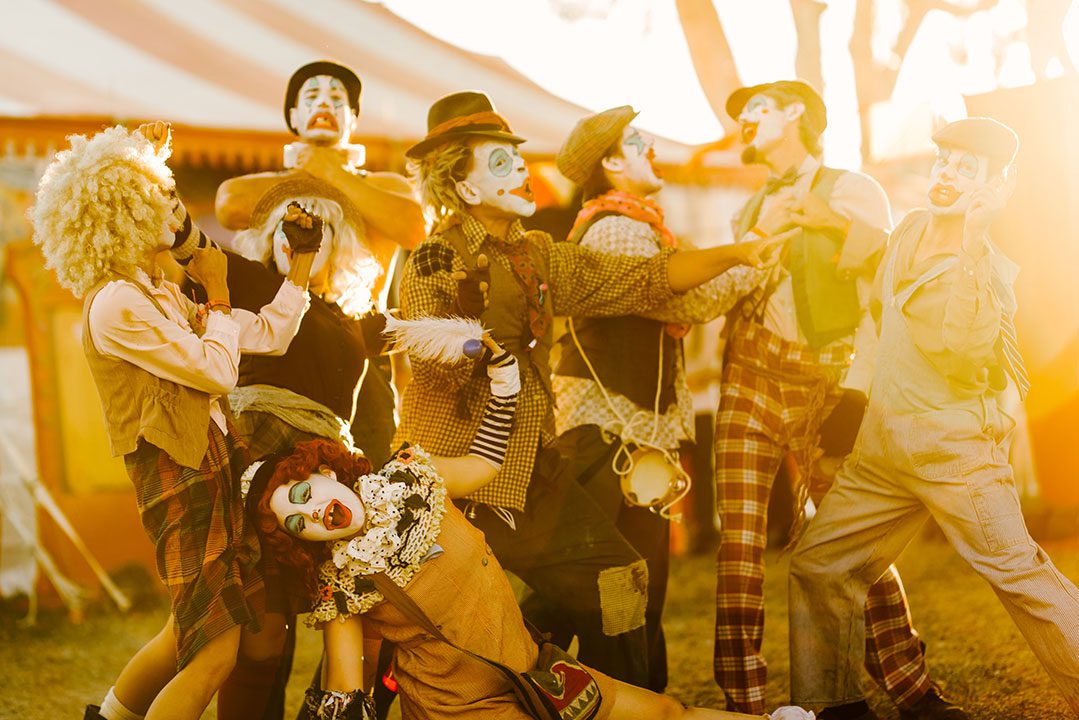 1. Bring A Refillable Water Bottle Or Hydration Pack
This festival pointer may be an obvious one, but we're here to remind you again: bring a refillable flask or hydration pack! The key to enjoying a night out is feeling good, and if there's one piece of advice we can offer to keep the momentum going it's…hydration.
Another perk of keeping a filled flask or hydration pack on you is the time and stress saved from maneuvering through tight crowds during popular sets. Escape also has free, refillable water stations available all throughout the grounds.
2. Plan A Meet-up Spot With Your Crew
Imagine the sun starts setting at 7PM and things start to become a blur, or you're unwantedly separated from your crew when mobbing through a crowd. Getting lost could be a downfall, and possibly ruin an attendee's mood if they aren't comfortable with being alone.
To avoid such trouble, settle on a meet-up spot with friends. That way, if anyone wanders off, you'll know exactly where to find them. One location to consider is the lake. It's in the center of the festival grounds and easy to locate. Also, keep in mind that reception at festivals isn't always the strongest –– another good reason to solidify a meet-up location.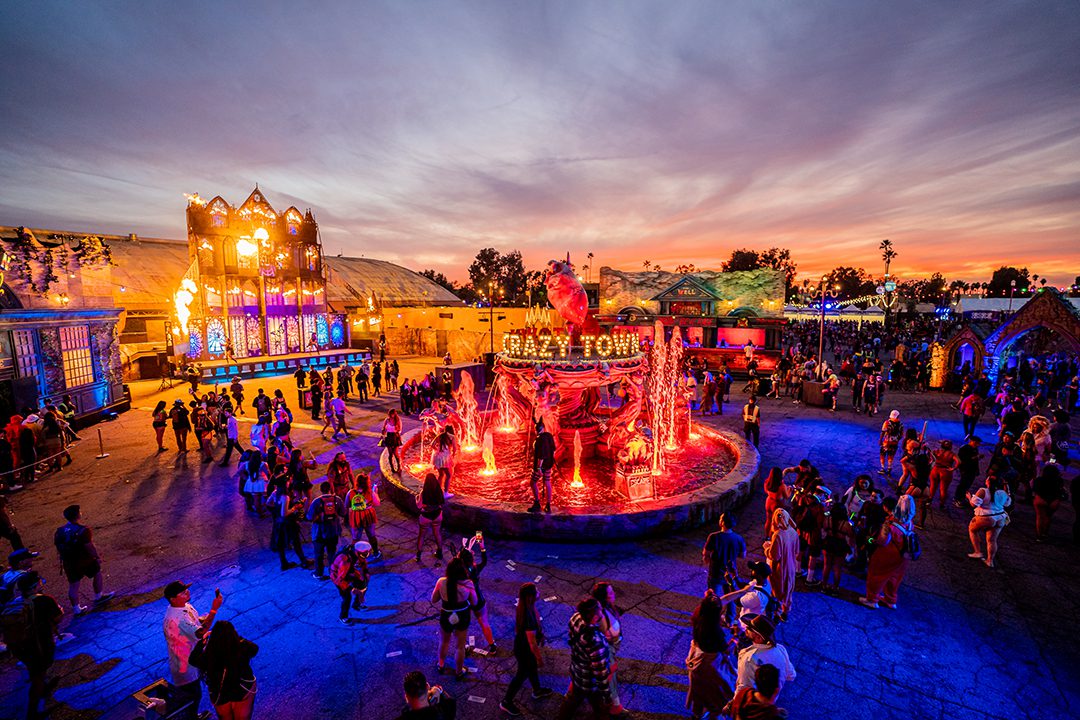 3. We Dare You To Enter Crazy Town
On the outskirts of Escape Halloween sits a world of its own: Crazy Town. This is an enigmatic space surrounded by frightful creatures, eerie decorations, and haunting sounds, but don't let that scare you away.
Inside Crazy Town, we encourage festival-goers to stop for an enchanted drink at Poison Ivy –– a shop wrapped with overgrown ivy serving Halloween-centric drinks inside.
Walk through the meat hooks and hanging body bags at The Butcher, and dance with spirits during a silent disco at the town's old cemetery, Dance Macabre. Visitors will also encounter the fountain of souls and a fire-breathing creature, the Fire Organ.
4. Participate In The Festival Rides Escape Has To Offer
If you're an adrenaline junkie who loves carnival rides, participating in the rides Escape has to offer will enhance your event experience. Participants will have the option of hopping on a swing chair ride –– a carousel with seats suspended from its rotating top, and a smooth-riding Ferris wheel that makes for an epic view of the spooky, glowing landscape.
We suggest trying the swing chair ride during your favorite set at The Grimm since it's located right outside the stage. Pick your poison.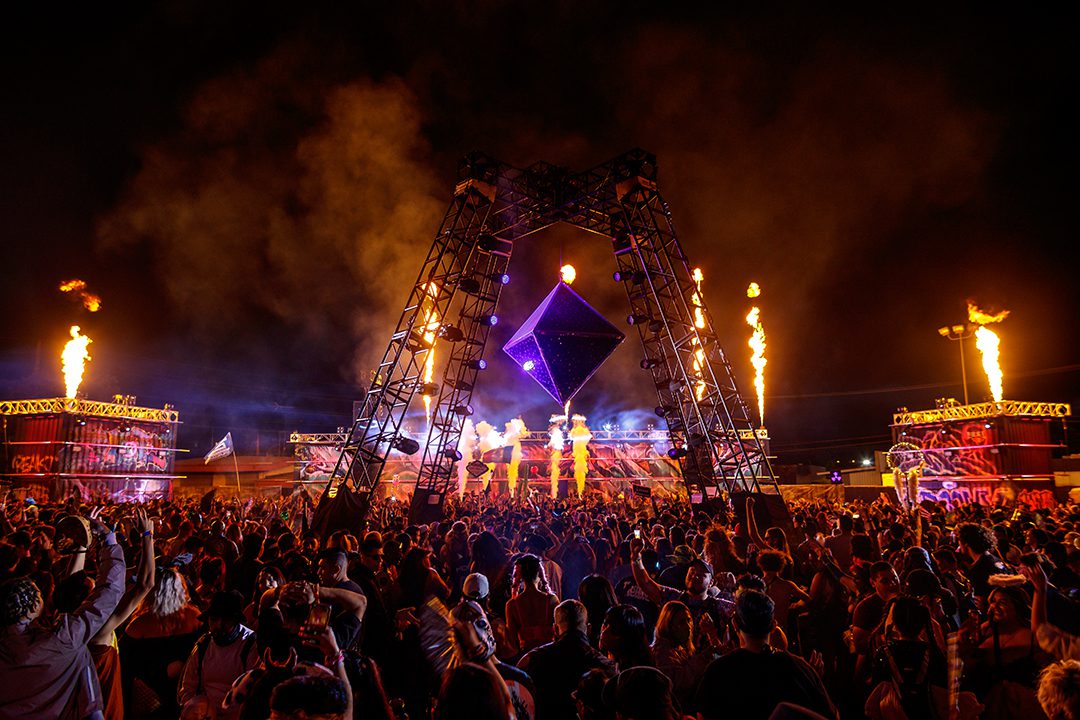 5. Dance At Every Stage
To get the full Escape Halloween experience, we recommend visiting each stage until you've settled on a favorite. We suggest starting off with the Sewer District: a hub of deep four-on-the-floor and heavy, repetitive sounds surrounded by pyro and graffitied crates.
Once you've had enough hard-hitting beats, make your way to their biggest stage, The Grimm. Here, night owls are welcomed by various eclectic sounds and an oversized Grimm that faces and oversees the dance floor.
Pick up the momentum by heading to the Sanitarium, home of the fierce, harder styles. When it's all said and done, wrap the exploration with Escape's trap-y and bass-focused realm, the Feeding Grounds.
6. Bring A Fannypack Or Small Backpack For Essentials
It's can be easy for festival-goers to misplace things, especially when rocking rave attire with no pockets. We propose attendees prepare a fanny or backpack with essentials.
What essentials does one need for a festival, you may ask? Well, things such as chapstick, a sealed pack of gum, traveling-size deodorant, a phone charger, electrolytes (or vitamin C) packets to help support hydration, and hair ties, if needed.
Attendees will also want a safe space to place their ID, cell phone, and other miscellaneous things. Be aware of pickpocketers and keep your choice of personal storage close. If carrying a fanny or backpack doesn't sound pleasing, Escape will have lockers available to rent for the night, helping attendees keep their belongings secured.
Escape Halloween is taking place October 28-29, 2022 at the Nos Event Center. Click here to purchase tickets.