I've been going to raves since I turned 18. That was back in 1998. I began my journey with underground parties in San Francisco and Oakland before raving in Southern California. I've attended Coachella, Electric Daisy Carnival and TomorrowWorld multiple times, not to mention dozens of other raves and festivals up and down California. In all of my adventures, I will say I had the wildest time of my life last year on Groove Cruise Los Angeles. I consider myself to be a seasoned partier, and I was told that Groove Cruise would provide me with a big challenge. Groove Cruise Los Angeles was truly a party like no other. I can only describe it as EDC meets TomorrowWorld's Dreamville – but on a massive cruise ship. If you think you can party like a true rock star, this is the voyage you need to embark on. It will change your life.
Here now are my 7 Reasons Why Groove Cruise Is The Ultimate Party Adventure:
1. The Music
The DJ's on GCLA 2015 were AMAZING. Groove Cruise always books some of the top talent in the world. The music is already playing as soon as you walk onto the ship. It doesn't stop until you walk off. The music played all day and night for 72+ hours  straight. It was so awesome being able to walk to a bar and see and chat with DJ's like Paul Oakenfold and Tom Staar. The artists who played GCLA 2015 were: Ferry Corsten, Paul Oakenfold, Cazzette, Vinai, DVBBS, Dirty South, Darude, Vicetone, Helena, Sidney Samson, Quintino, EDX, Kryder, Tom Staar, Kevin Sanderson, Anthony Attalla, Guy Gerber, Cocodrills, Technasia, Tujamo, Dean Mason, Kristina Sky, Sydney Blu, Le Youth, Scotty Boy, Croatia Squad and many, many more. There is no where else where you can be face to face with some of your favorite artists. You drink with them, eat with them, dance and party with them. My friend Carinne will never forget standing in line for a sandwich with EDX and chatting it up with him. She also partied with Tom Staar and said that was an experience she will never forget. The music doesn't stop on Groove Cruise, so if you are up at 6am – there is a set for you! You can literally wander from stage to stage all day and night.
2.  The Crowd
It was so refreshing to party with professionals. You won't find a younger crowd on GC. Instead, you will find people who are a bit older and have professional jobs and careers. This is a chance for them to break free of the daily grind and let loose. Everyone was welcoming and wanted you to share in the fun. A majority of those who go on Groove Cruise have been on previous cruises. The "Veterans" are super helpful. They know the ropes and will always help you on and off the boat. They also know how to turn up and can point you in the direction of the nearest hallway slip n' slide.
3. The Staff
Everyone working with Whet Travel made my GCLA experience VERY EASY. The staff is dedicated to answering your questions and getting feedback on how to make the next journey even better. I met a number of people with Whet Travel, and they were very welcoming and eager to answer any questions. That is much different than other cruises and festivals where NOBODY gets back to you. The staff truly does cater to your needs on Groove Cruise. Both of my best friends celebrated their birthdays on the cruise. I informed the staff ahead of the trip and they provided birthday cakes and cards to each of my friends. The cake was waiting in our rooms when we boarded and was quite a nice surprise. Big props to Rafi, Jason and the entire team at Whet Travel!
4. Partying on a boat
GCLA 2015 was my first cruise ever. I knew what to expect because my good friends Erin, Kelly and Lenka are seasoned GC vets. They told me what to pack, who to meet and how to best enjoy life on the boat. The best thing about partying on a boat for 3 days : not having to deal with Uber or driving and no "walk of shame" back to your hotel. If you get tired (which I didn't until the end of day 3) you can go back to your room for a quick power nap. That's what makes GC so amazing! You can seriously explore every inch of the boat 24/7. The drinks are flowing non stop as well. There is a big sense of community on the boat as well. I won't forget making a run to our room with my friends Callie and Lara. We were skipping down the hallway when a girl, named Monique, popped her head out of her room and we all started yelling and screaming. It was hilarious. We've remained friends ever since that moment. You never know what to expect on the boat – from an impromptu hallway slip n slide – to people making you take shots before you pass them. Another plus – multiple bars are all over the boat so you never have to wait that long for a drink. You can also test your luck in the casino. We played a few games before going back to the dance floor. This was the easiest party weekend of my life. I didn't have to lug around a lot of heavy luggage. I didn't have to set up a tent and camp site.
I didn't have to do much except remember my room number. Everything was taken care of. Your bags are even delivered to your room after you board. How much easier can life get?
5. The Costumes
You don't need to pack "clothes" when going on Groove Cruise. You will need a few essentials, tank tops, shorts, underwear, swim suit, etc… But you will spend most of your time partying in themed costumes. Every day and night of GC features a specific theme. Our theme for Friday: Represent. That's is basically showing where you are from or what you represent. Friday night's theme was amazing: 50 Shades of Disney. Our crew dressed up as Winnie the Pooh characters – but with a kinky twist. Check out the picture for yourself: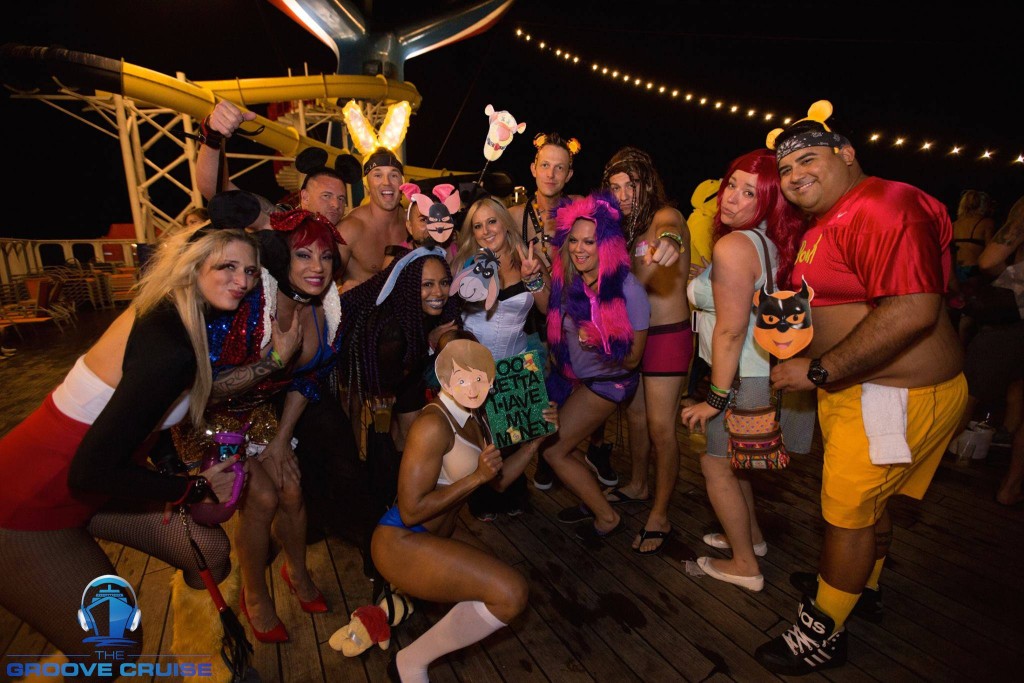 Saturday's themes were Naughty Nautical (day) and Neon Candyland. (night) Sunday was DTF (Down to Fiesta) and Sunday night was Halloween on the High Seas. The costumes are a chance to let your freak flag fly. Anything pretty much goes as costumes are concerned. Just have fun with it.
6. Off Boat Excursions
You have the option to party at some amazing locations on Groove Cruise. GCLA stopped at Catalina Island and at Ensenada, Mexico. The stop at Catalina Island included a wild beach party. The stop south of the border included an insane fiesta at Papas & Beer. You can choose to leave the ship for these excursions – or stay on board. We choose to stay on board during the stop at Catalina Island and had the boat to ourselves. We ran wild through the waterpark and partied all day. IT WAS AWESOME!!!
7. Freedom
You are free to be yourself on Groove Cruise. You can drink, dance and party until you decide you've had enough. Nobody is going to judge you for dancing 72+ hours. You can roam the entire ship and meet new friends along the way. Our crew had the time of our lives on GCLA and plan on attending Groove Cruise Cabo.
So there you have my 7 reasons why you Groove Cruise is the ultimate party adventure. I seriously didn't sleep until day 3 – and only slept for about 3-4 hours. The turn up on the boat is REAL. I have never partied so hard in my life…and that's saying something.
Groove Cruise Cabo is the latest journey you can embark on. This cruise will be even longer than GCLA as it's 5 days! Tickets are on sale now – but they are going fast. The themes for GC Cabo 2016: Identity, Shine The F*** UP!, Baby Blue & Pink party, You Celebrity (dress like your favorite celebrity), Groove Cruise 3000 (futuristic theme), Halloween on the High Seas, Devil & Angel pool party and Arabian Nights! All you'll need to pack for GC Cabo are some creative costumes and your toiletry bag. TRUST ME.
The lineup for GC Cabo will be released July 6th. I can't wait to see who will be on board this year! If you take one trip this year – trust me when I say you should give GC Cabo a try. You will love it and be welcomed in the Groove Cruise Family.
Groove Cruise Cabo sets sail from San Diego on October 28 and returns November 2.
You can find everything you need to know about Groove Cruise Cabo HERE.This 5 day voyage will take place on the massive Norwegian Sun cruise liner and will feature more than 120 hours of nonstop music. Are you ready for that challenge?
Be sure to check back on July 6th as we will unveil the lineup for GC Cabo. Oh, you can also save some money on your booking if you use the code EDMMANIAC.
I'll see you on board this October for another wild adventure on the high seas!
-Jared