Today is the day guys! Black Tiger Sex Machine dropped their much-anticipated LP "New Worlds" Kannibalen Records… and it's everything I envisioned it would be.
"The album captures the talented trio's perspective on both creating and listening to music, and is based on discovery and exploring new horizons," a press release stated. "Transforming the conflicting feelings of hope and uncertainty from a world that is changing both technologically and politically into pure musical manifestation."
I was already pretty amped for this release after already hearing the three singles previously released from the LP:  "Madness" with Sullivan King, "Zombie" and "Lions." It did NOT disappoint. The album is filled out with seven more mind-blowing tracks "with BTSM's signature combination of infectious electro sounds and badass beats that will have every basshead enamoured." Uhmmm yeah, that's an understatement. Here are my thoughts on the album…
1. Black Tiger Sex Machine – Broken Machines
"You'll find that things are very different here," the track begins. It comes in strong with the signature BTSM sound. The opening beats almost sound like superhero intro. The drop is this weird echoey bass line that rattles throughout the track and into the next buildup before it drops into this ominous post-apocalyptic tone.
2. Black Tiger Sex Machine – Zombie feat. Panther
I've already shared with you guys how I feel about this track. If you missed it, you can peep my previous story to see what I had to say.
3. Black Tiger Sex Machine x YOOKiE – Lions
Tribal vocals comprise the intro which sound like some sort of fireside tale of a fierce feline, be it a lion or a tiger…Until a siren riddled, grinding bass takes hold around a minute and throws it into oblivion. It drops hen builds back up into blaring sirens before it drops into these nasty serious basslines.
4. Black Tiger Sex Machine – War
It sounds like a ballad, in preparation for a grueling battle. That sound builds into the drop which really showcases BTSMs ability to explore new sounds without losing their identity. The track brings in menacing organ synths before it drops again.
5. Black Tiger Sex Machine x Sullivan King – Madness
The trio released this track several weeks ago and it stayed playing in my car. Anything with Sullivan King, I'm fucking game dude. Especially when it's paired with BTSM. The result is this deafening, hard hitting, bass heavy track that features guitar solos and vocals by the king himself.
6. Black Tiger Sex Machine – Artificial Intelligence
It's different from anything BTSM I've heard and i absolutely LOVE it. The track has these eerie, almost twinkling sounding buildups before it drops so low into these booming, ground shaking basslines. The final drop is when shit gets real.
7. Black Tiger Sex Machine x Kai Wachi – Rebels feat. Macntaj
Coming in with some rap lyrics which works super well with this powerful intro. Kai Wachi is on this track and you can totally hear the seamless combination of their two very unique styles. The track is consistently hard but serious until the second verse when shit gets REAL. It stays harsh and heavy until the outdo breaks it all down.
8. Black Tiger Sex Machine x Apashe – Replicants
The intro to this track sent chills all the way down my spine to my toes. One single bass pound throws the whole track into silence before the drop where robotic vocals take hold, "They are not human." It goes into an odd childlike sounding mix before it builds and drops again. I can definitely hear Apashe's signature peeping through on this track.
9. Black Tiger Sex Machine – Beast
Coming in like more of a dance floor tune, this song knocks itself into existence with a catchy vibe. Vibrating basslines send it out into the head knocking BTSM signature about a minute in. Things slow back down, like a brief instrumental recovery period before it picks up again. I felt like I was back at Electric Forest again, the first place I ever saw them live.
10. Black Tiger Sex Machine x Lektrique – Death
Dark and dismal drums mixed with ominous vocals give this track this daunting vibe before blaring basslines send it into a drop that is bound to rattle your whole existence. This track is the perfect finale to this album because it combines the styles they previously used in Welcome to our Church with the sounds of New Worlds. Throw Letrique into that and the result is mind-blowing. The outro is probably my favorite part. I won't spoil it for y'all, check it out!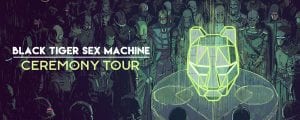 BTSM embarks on their North American 'Ceremony' tour today. They'll be bringing the heat and momentum from this new album plus brand new stage production along with them. Support from album mates Apashe, Kai Wachi, Sullivan King and Lektrique will be featured on certain stops on the tour. Check the list and snag your tix before they run out!
I'll be going to church next week at the Detroit stop and I am so stoked to see this for myself. Stay tuned for my full recap after the show next week. Happy "New Worlds" day y'all!