Sean Whittemore and Evan Judy both knew that they were destined for a career in the dance music industry from a young age. However, how they would put their influence on the scene was not always so clear-cut. Before meeting in a moment of fate at LA's famous Icon Collective School of Music, the duo that would end up as 'House Divided' lived very different lives.
Evan hails from Raleigh, North Carolina and has been working on music production since the age of 16, even through his 5-year stint with the United States Navy. Sean spent much of his twenties DJing in New York's underground scene before learning production and moving to the West Coast. With their latest single, a Collab with Ocean Roulette titled "Customer Service" (their second release on Kyle Watson's Box of Cats label), the duo has been on fire recently and are showing no signs of slowing down! We had the chance to speak with the up and coming artists to learn more about their journey. Read on to learn about this dynamic duo's take on their unique background, the origins of their name, and how their initial single "Funk King" was able to put them on the map.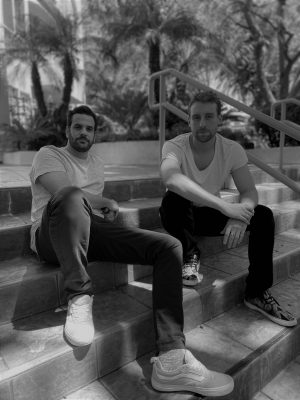 Photo by House Divided
MANIAC BLVCK: Evan, you've been producing since you were 16 and spent five years in the Navy, while Sean began as a DJ in New York's underground scene before learning production (with you two meeting at Icon Collective in LA). How would you say your diverse backgrounds have led you to being an "ideal" duo?
House Divided: We both definitely take pride in where we've come from and how we got here. As far as my journey with electronic music goes, I have a much more "mainstream" history whereas Sean came from a more "underground" scene. We both knew we wanted to make House music but had very different opinions on what that actually meant. So, when we first started producing together, we were forced to put our egos aside and listen to one another. This lead to us developing our own unique blend of House music.
MANIAC BLVCK: How did the name "House Divided" come about?
House Divided: We were trying to come up with a name for the longest time and then one day after class, it just popped into Sean's head. We thought about for all of about five seconds before realizing how perfect it was. It represents our different backgrounds as well as our different takes on House music. We also make it a point to have no one track of ours sound the same. We want our fans to have no idea which direction our next track will take and we feel like that's what makes our brand special.
MANIAC BLVCK: How did you manage to get Country Club Disco to sign your first release?
House Divided: Evan was up late one night and saw that on Golf Claps Instagram, they had posted a like to submit demos. He sent them a few tracks at about 3 AM and just a few hours later, Bryan (who's is no longer apart of Golf Clap) messaged Evan on Facebook expressing interest In "Funk King." Honestly, if it wasn't for that night and Evan lurking on Golf Clap's Instagram at 3 AM, we might still be unknown.
MANIAC BLVCK: What would you consider your biggest release to date?
House Divided: Definitely the Spaceman remix. We actually thought it was going to flop and started second guessing ourselves about it right before it released. Boy were we wrong haha. That track put us on the map for sure.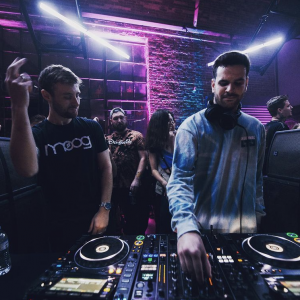 Photo by @itshousedivided
MANIAC BLVCK: What's been your favorite remix you've done so far?
House Divided: We absolutely love the "Let You Get to Me" remix we did for JNZO and Hood Politics. It's still one of our favorite tracks to date!
MANIAC BLVCK: What about your favorite live set? Favorite livestream?
House Divided: Our favorite live set would have to be back in February when we played this after hours party called Freaky Friday. The warehouse was packed inside and out. That was the first time we ever played "Too Hot" and the crowed went nuts! Our favorite livestream set would definitely have to be the one we did for Truth x Lies last week. We were having the best time just hanging out and playing all our favorite new tunes.
MANIAC BLVCK: What has been your favorite Collab so far?
House Divided: The whole EP we did with San Pacho for Terminal Underground was so much fun. It's tough when you're working with someone on the other side of the planet but we worked so well with each other that it didn't matter at all.
MANIAC BLVCK: In just over a year (1.5 years so far), you've managed to climb into the Top 100 selling tech-house artists on Beatport! Can you describe this journey? Did you expect success so quick?
House Divided: We both have told ourselves our whole lives that this is what we are meant to do. To see it actually start to happen and gain recognition in such a short amount of time is still unbelievable. However, to us, it doesn't feel like a short amount of time because we've been working for the last ten years or so to get to this point.
MANIAC BLVCK: Describe the feeling of seeing one of your songs getting ranked so highly on Beatport, like when "Too Hot" reached #21.
House Divided: We just love the fact that we have the ability now to share our music with the rest of the world. When a track we put out makes its way up the charts like that, it brings us so much joy to think that we're reaching such a wide audience and that our music is able to bring them some sort of excitement and happiness in their daily lives. We couldn't be more humbled and grateful for all our fans and all the love they've shown us. They literally are the reason we do what we do, and why we push ourselves harder each and every day to live up to their expectations.
MANIAC BLVCK: Lastly, how have you adjusted to life during COVID?
House Divided: It's had its up's and downs. Luckily for us, we spend most of our time in the studio to begin with, so in regards to the lockdowns things didn't change that much. But we know friends and have family that have definitely been adversely effected by everything going on, and it's difficult when you know how much hardship so many people and small businesses are experiencing right now. We think the best thing people can do right now is be there for one another in any way that they can. With any luck, we'll be turning the page on these times soon.
Photo by Box of Cats
If you haven't heard of House Divided before, you sure have now! Sean and Evan clearly love what they do and they put it all on the line to deliver to fans their special style of House music. We may never know what will come out of their studio at any given time, but we do know it will be fresh, creative, and something special. Give these guys a listen and check out their latest release, "Customer Service" with Ocean Roulette, out now on Kyle Watson's Box of Cats Label!
Featured Photo by House Divided