Insomniac Successfully Hosts Annual Escape Music Festival
In 2011, Insomniac debuted their first Escape music festival under the name "Escape From Wonderland", at the National Orange Show Event Center in San Bernardino, California. Flash forward to 2021, Escape is now one of Southern California's biggest Halloween music festivals and has some of the biggest production of all Insomniac's music festivals held at the NOS Event Center.
Lineup
Escape Halloween 2021 was held during Halloweekend, from October 29-30. The lineup included sets from talented artists such as DJ Snake, Zomboy, Zedd, The Chainsmokers, Jauz, Adam Bayer, Green Velvet, and more! Many people looked forward to Eric Prydz on the lineup for his notorious Cirez D set. Also, present on the lineup was rapper, Playboi Carti, who attracted many guests outside of the rave community.
Production
Many fans of Escape looked forward to the extravagant decorations and frightfully amazing transformation of the venue. This year, Escape Halloween did not disappoint! A few of our favorite pieces of production were Crazy Town, the circus-themed tent where magic shows were performed, the graveyard silent-disco, and The Grimm stage.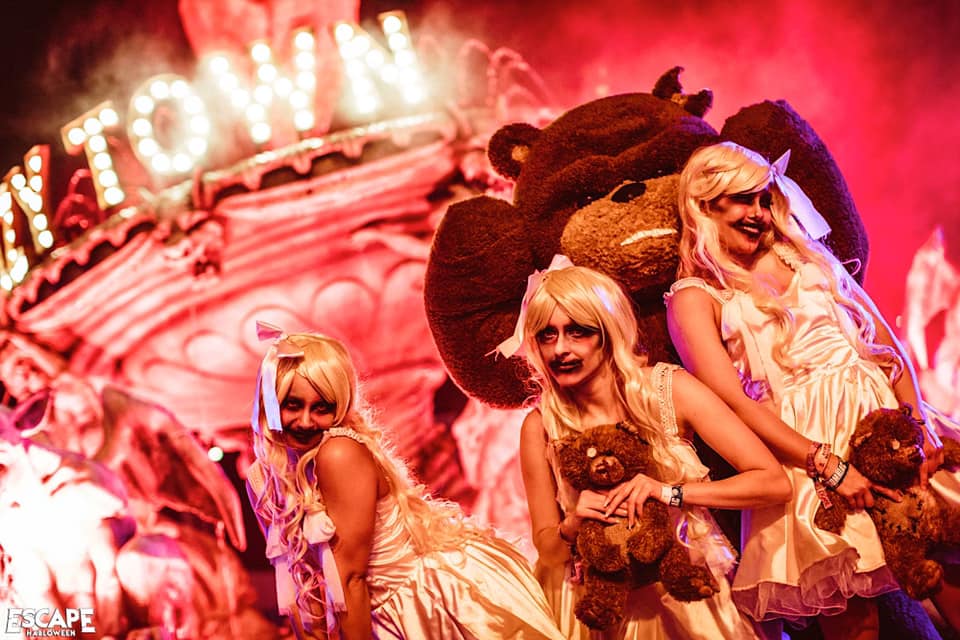 At the heart of Crazy Town was the fountain where people gathered to take pictures and interact with spooky characters who roamed the area. There was also a maze, a decked-out bar, and a stage with fire! We were able to enjoy the Halloween spirit at Crazy Town, while also catching a breath from dancing at the various stages.
The Grimm stage is one of Insomniac's biggest stages. It features a giant skeleton structure that moves! We were able to get up close to the structure and boy, did we feel small! Other stages we explored were the Sewer District and Psycho Circus. Sewer District produced an underground type of ambiance, perfect for lovers of house and techno. Psycho Circus had a carnival ride posted up right outside of the stage! This was beneficial for people who wanted to ride the rides and still listen to the music while they waited in line.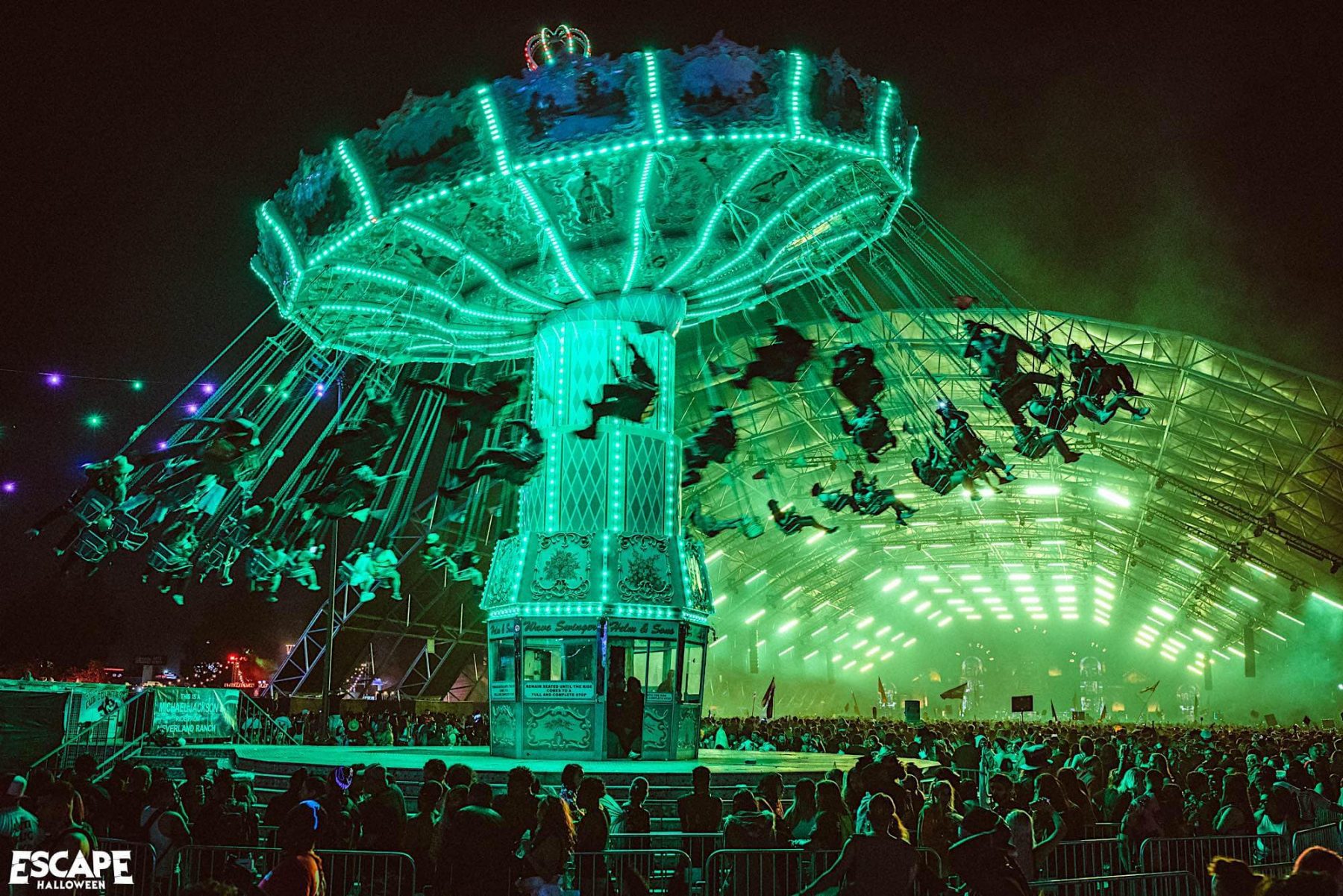 Vibe
Though the venue felt spacious, many people described the crowd as rude and pushy. Some people even left early due to the unfriendliness of the crowd they were surrounded by. Escape attracts many people outside of the rave community, which may be a contributing factor to the negative interactions various festival attendees experienced. There was also a high amount of pickpocketing. Unfortunately, this is not something new or taboo when attending a music festival at the NOS Event Center. It is important to stay alert and keep your belongings in a safe and secure area!
Other
Something worth mentioning is the on-site COVID-19 testing center that Insomniac provided in front of the entrance of the festival. If a person did not have proof of vaccination or had an invalid negative test result, they were given the opportunity to test on-site for $30. Though it was an extra $30 out of their pocket, this gave them the chance to still enter the festival rather than not being able to enter and waste hundreds of dollars on a ticket they couldn't use. This shows the efforts that Insomniac puts forth to try and make festivals safer for everyone.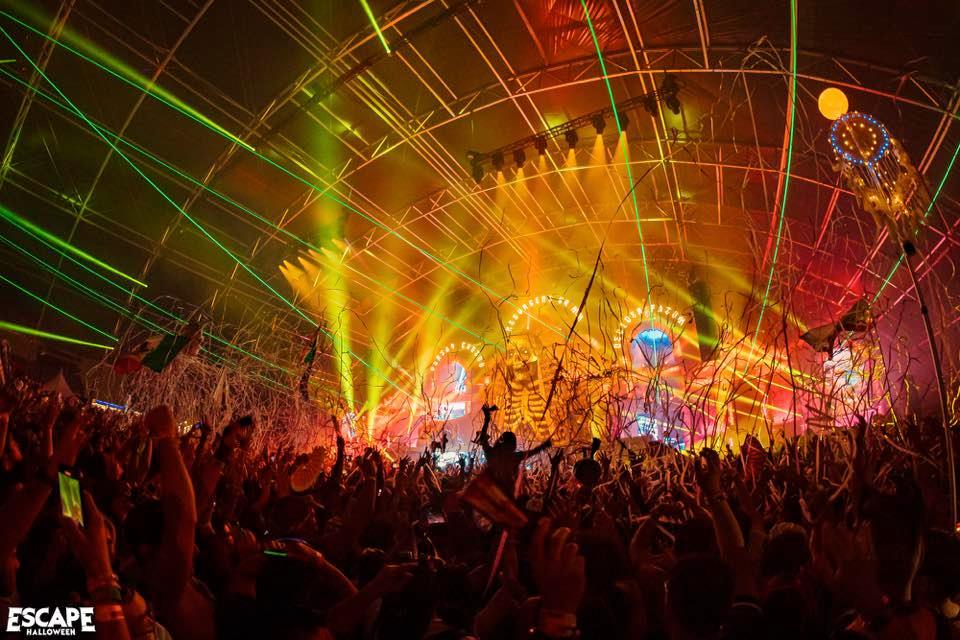 Conclusion
This year's Escape Halloween was held just days after Insomniac hosted EDC Las Vegas, their iconic dance music festival with the highest production of the year. This is important to note because Insomniac's team was able to successfully put on 2 large shows in less than a week! On top of that, Insomniac is also hosting another EDC in Orlando from November 12-14! This shows the hard work and dedication that Insomniac's team has. Props to the team!
All in all, Escape Halloween had another successful year. It has come very far from where it started in 2011 and it only keeps progressing! We can't wait for the next one!
Be sure to follow up on Instagram and keep up with our Festival Report Cards!
View this post on Instagram