A new art and music festival is coming to Downtown Los Angeles!
i3 Arts Fest will debut in Downtown Los Angeles on June 2- June 3 for two unforgettable nights of music, art and innovation. The nighttime experience will feature over 30 artists, large scale installations and art cars for all to enjoy.
The fest will also completely transform and illuminate Grand Park's lawn into a interactive art gallery on display for the whole city to see.
"Art is an integral part of culture in Los Angeles and worldwide," said festival founder & CEO, Xandra Myers. "Our goal is to change individual's everyday relationship with art, and ignite a spark in our youth by inspiring and challenging perspectives, while creating a large-scale platform to showcase these amazing artists and their work."
On June 3rd, the festival will present an awe-inspiring "Art Car ball" in Pershing Square. The "Charlie The Unicorn" art car (made famous from Burning Man) will also make a very special appearance. The event will feature DJs like divaDanielle, DJ Dan, Doc Martin and more. Check out the full lineup here.
"We acknowledge all mediums of art as part of our lineup," said Xandra Myers, i3 Arts Fest Founder. "Art installations and art cars are billed as headliners alongside our DJs, as they perform together and give our audience a unique sensory experience within a festival footprint."
Check out the full schedule of events below! The i3 Arts Fest is free for all ages. Tickets to the Art Car Ball are available here.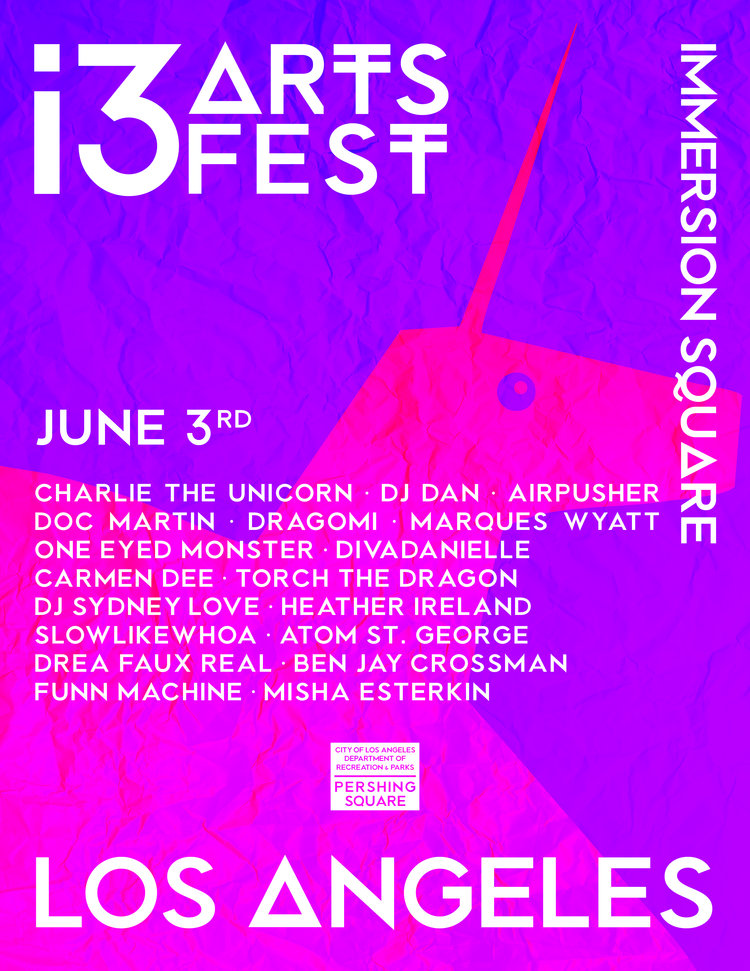 Interaction Park at Grand Park, June 2-3 (free for all ages): large-scale interactive art installations will transform Grand Park's Event Lawn into an urban art gallery and engage attendees through science, technology, engineering and mathematics. Special guests include The Gaslamp Killer and Mike G of Odd Future.

Innovation Plaza at Grand Performances, June 2-3 (free for all ages): renowned

 musician William Close and his Earth Harp will kick off Grand Performances Summer Concert Series in partnership with i3 Arts Fest!

Immersion Square at Pershing Square, June 3 (tickets start at $50, all ages): women empowerment takes the lead at i3 Arts Fest Art Cart Ball, with more than half the lineup featuring female DJs.
We can't wait to check out this unique experience coming to Downtown LA. The combination of music, art and technology will make for an unforgettable evening that you won't want to miss!