When it comes to Miami Music Week (MMW), many naturally associate the week-long series of events with Ultra Music Festival since MMW ends with Ultra as the finale. However, Miami Music Week brings the best and brightest in the electronic music industry to Miami including the legendary event curators at Insomniac. As part of our Miami Music Week party guide, we have dedicated an entire guide to the Insomniac takeover of downtown Miami and South Beach with some of the hottest events of the week. Check it out below!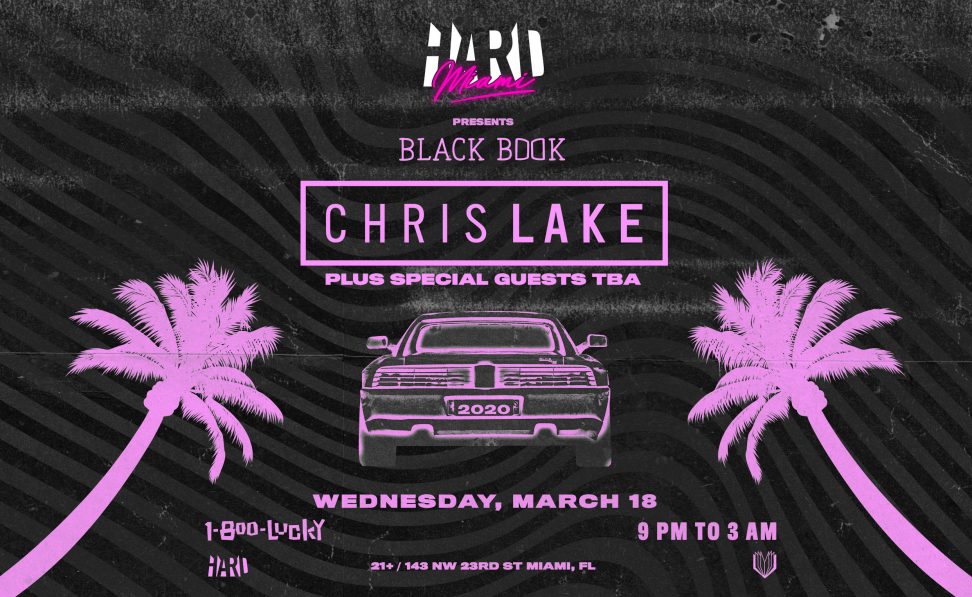 Wednesday March 18th, 2020: HARD Miami
Kicking off mid-week, Insomniac brings HARD to the pools of Miami on Wednesday the 18th. HARD is the sub-brand of Insomniac that brings us HARD Summer, HARD Day of the Dead, HARD Red Rocks, and Holy Ship! each year, catering to a mix of electronic, alternative, and hip-hop music with artists from around the world. For the HARD Miami event, Insomniac takes over the 1-800-Lucky food hall as it converts the 10,000 square foot industrial location into a dance music haven.
Nestled in the heart of Downtown Miami, HARD Miami returns this year with house music legend Chris Lake and his label Black Book Records. The event runs nearly all night long from 9PM to 3AM featuring performances by Chris Lake and several artists from the label. For tickets, head here.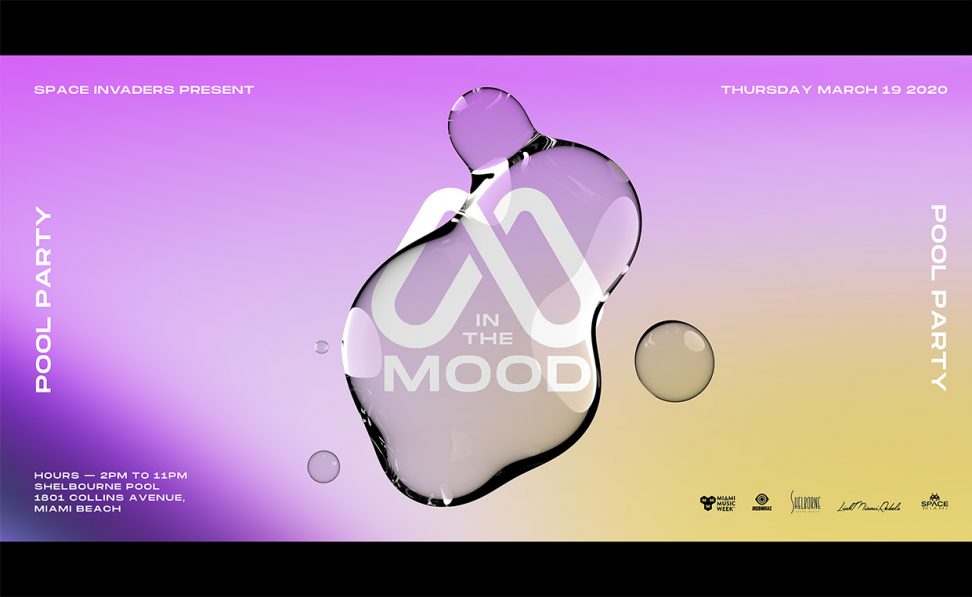 Thursday March 19th, 2020: In The Mood
Heading into Thursday, Insomniac Events moves to South Beach for an epic collaboration with Mood Records and Club Space for In The Mood. Taking place at Shelbourne Hotel in South Beach, the event is in a prime location for a pool party within walking distance for Winter Music Conference attendees and electronic music fans arriving early for Ultra. Mood Records was founded by female powerhouse Nicole Moudaber, who is not only a DJ but an event curator and electronic music connoisseur herself.
In The Mood will feature a lineup of heavy hitters to be announced and runs as a day-to-night event. Starting at 2PM through 11PM, this is one of the most anticipated events of the week for fans of deep house and techno. Together with popular local nightclub Club Space, In The Mood is a must for the weekly event lineup. For tickets, head here.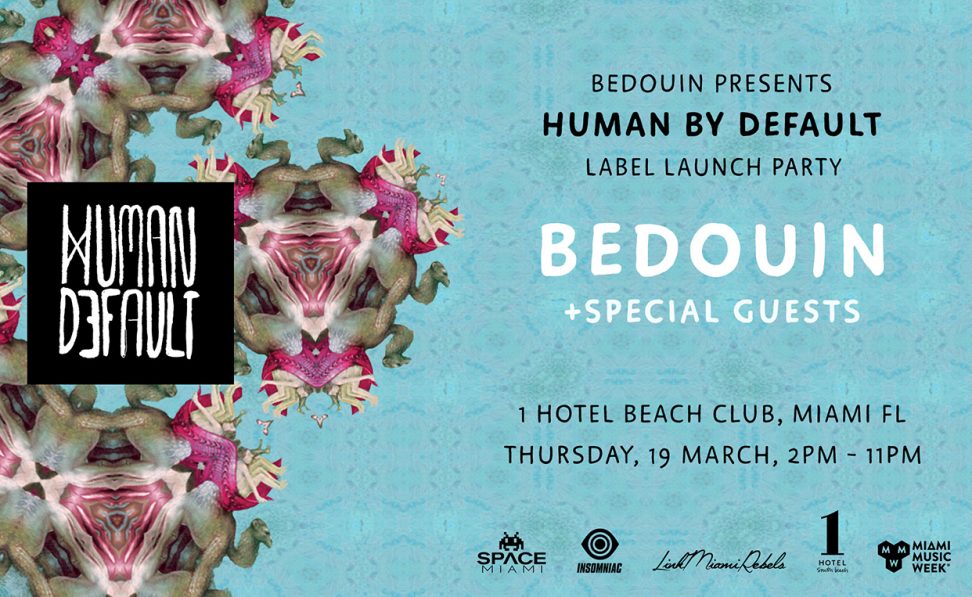 Thursday March 19th, 2020: Bedouin Presents Human By Default
For those that want to move from the pool to the beach, the Human By Default Launch Party on Thursday is the way to go. Located at the luxury 1 Hotel in Miami's renowned South Beach area, Brooklyn's finest deep tech producers Bedouin is set to debut the launch of their own record label, Human By Default. In a collaboration with Insomniac and Space Miami of local Club Space, this marks a huge event and milestone for the duo (comprised of Tamer Malki and Rami Abousabe).
The event is a day-to-night party starting at 2PM and carrying into the night at 11PM. Along with the release of their own label, Bedouin will be showcasing their new EP 'Whistleman' which includes three original tracks and a remix with Pablo Fierro. Bedouin will be performing alongside special guests for this highly-anticipated event. For tickets, head here.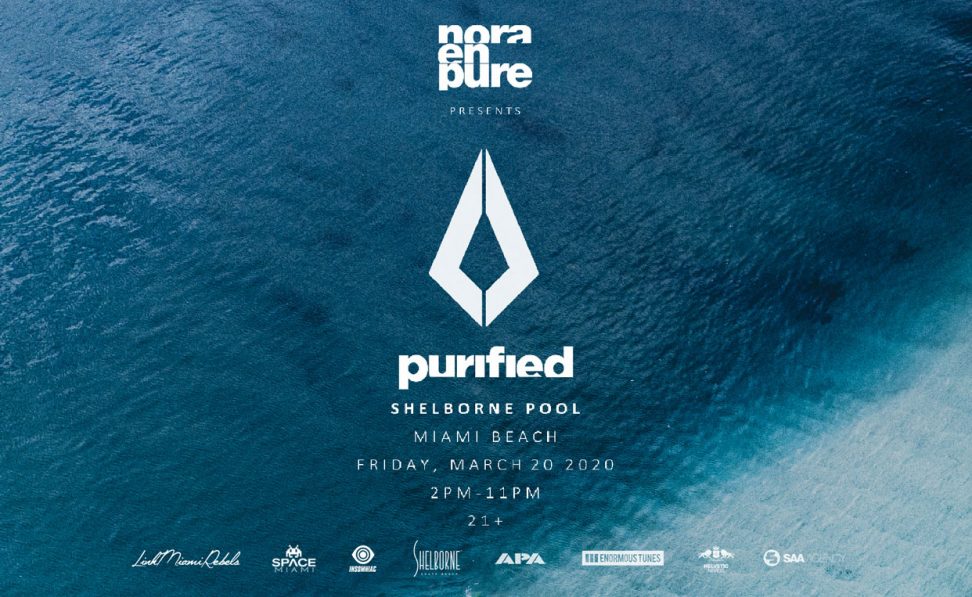 Friday March 20th, 2020: Nora En Pure Presents Purified
Kicking off the first day of Ultra Music Festival on Friday, Nora En Pure takes over the pool at the gorgeous beachfront Shelbourne Hotel. Together with Space Miami and Insomniac, Nora En Pure brings her acclaimed weekly radio show Purified to the poolside venue. The Swiss DJ is one of the leading deep house artists in the world, regularly taking the stages of the largest festivals including Electric Daisy Carnival and Tomorrowland.
The event takes place in Miami's South Beach area, running through the afternoon until late in the evening from 2PM to 11PM. Since Nora En Pure will not be taking the stages of Ultra this year due to her previously scheduled tour, this is the perfect opportunity to see her perform her always captivating sets. For tickets, head here.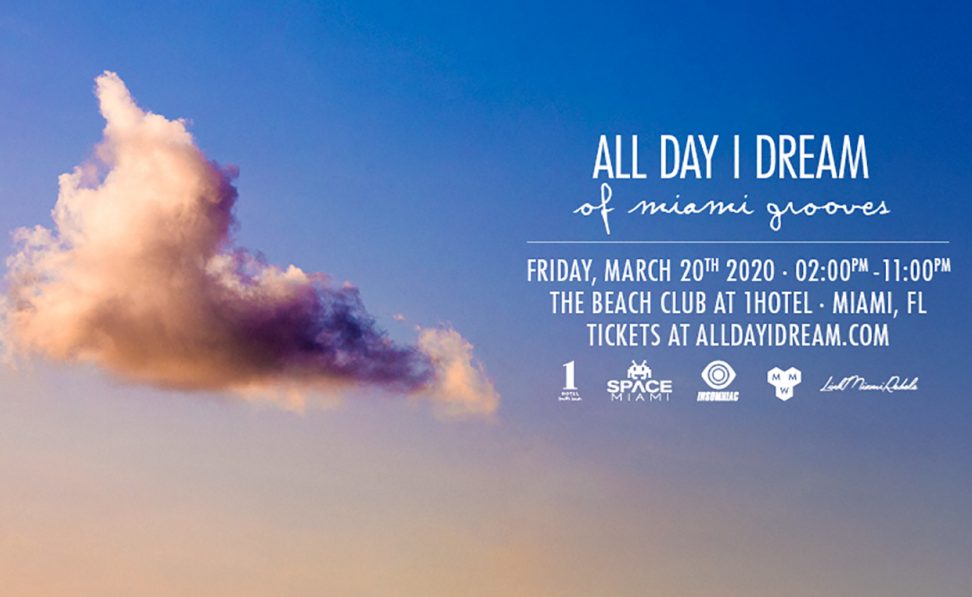 Friday March 20th, 2020: All Day I Dream
The curators at All Day I Dream recently announced their worldwide tour for 2020, which includes a stop during Miami Music Week for another year. Known as a global phenomenon after starting out on a rooftop in Brooklyn back in 2011, All Day I Dream is an event that is one-of-a-kind in terms of music, production, and aesthetic. Helmed by producers Lee Burridge and Matthew Dekay, the event was created to transport guests into a dreamlike world complimented by melodic beats of house and techno.
All Day I Dream takes place at Beach Club at the luxury 1 Hotel in South Beach. The overall ambiance of a poolside party combined with the production of All Day I Dream Miami makes this event a premier party for Miami Music Week. The event runs from afternoon to night between 2PM to 11PM for an entire evening of bliss. For tickets, head here.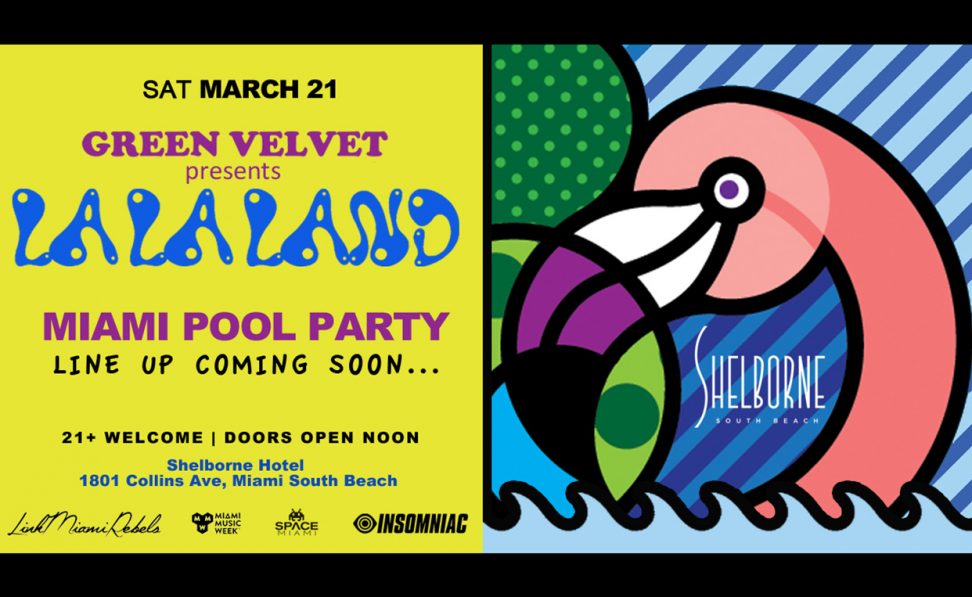 Saturday March 21st: Green Velvet Presents La La Land
Heading into the weekend, Green Velvet is partnering with Miami's own underground electronic music event curators Link Miami Rebels for the annual La La Land pool party. La La Land is based on Green Velvet's hit song "La La Land" which speaks to the thrill of endless partying. For this edition, Green Velvet will be taking the stage alongside other house and techno artists for eleven hours of poolside partying. While the full lineup has not yet been announced, past La La Land artists have included Gorgon City, Eats Everything, and Dajae.
The La La Land party is a day to night event starting at 12PM and carrying into the night through 11PM. Along with the Link Miami Rebels, Miami's Space Invaders will be working on this exciting collaboration to bring the best in underground music to the luxury oceanside Shelbourne Hotel. For tickets, head here.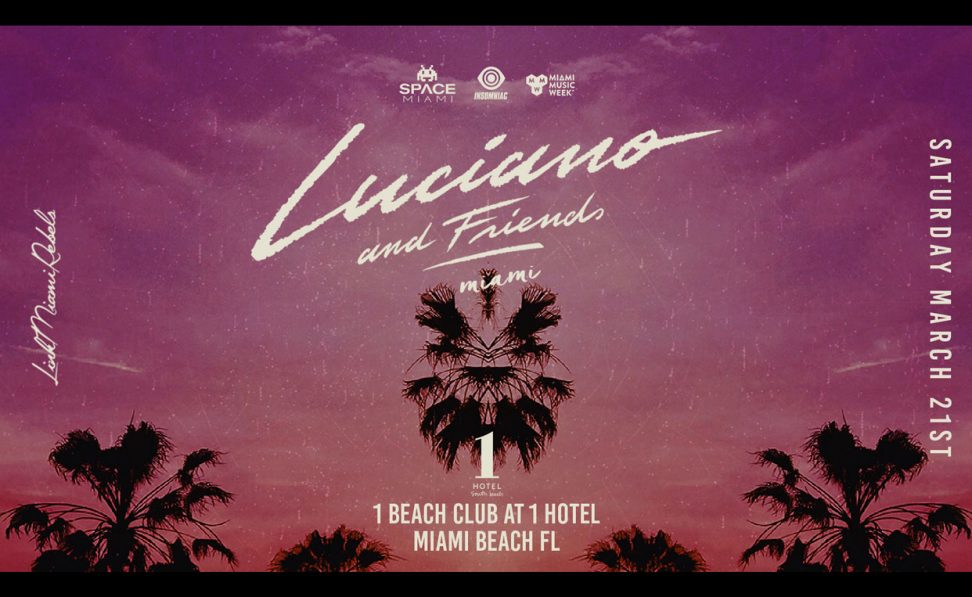 Saturday March 21st: Luciano & Friends
The Chilean-Swiss producer that helped cultivate the underground electronic music scene in Chile is bringing his talents to the beaches of Miami for his showcase of Luciano & Friends. Luciano is a five-time DJ Awards winner known for his smooth blend of house and techno with influences from Latin American music. March is a big month for Luciano as he takes the RESISTANCE Stage at the debut of Ultra Abu Dhabi and Ultra Australia before heading to beautiful Miami for another year of Miami Music Week.
The event will take place at the famed Beach Club at the newly-renovated beachfront resort 1 Hotel in Miami's South Beach neighborhood. While the additional artists have not yet been revealed, past Luciano & Friends guests have included Claptone among others. The event runs from day to night, starting at 2PM and concluding at 11PM. For tickets, head here.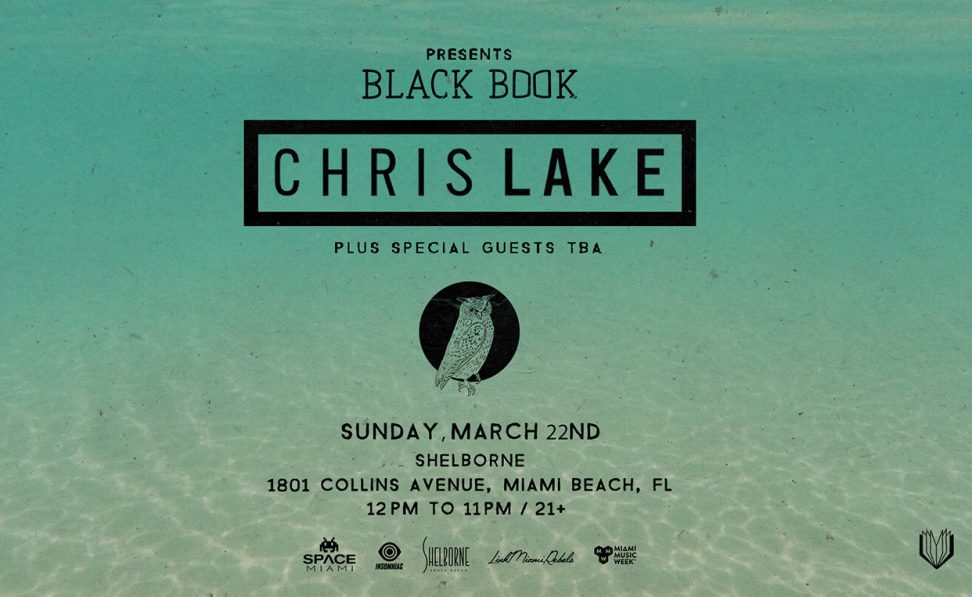 Sunday March 22nd: Chris Lake Presents Black Book
As the finale to Miami Music Week, Insomniac brings British electronic music legend Chris Lake to the pools of South Beach for Chris Lake Presents Black Book. Black Book is the record label founded by Chris Lake, which debuted as major coast to coast tour throughout North America back in 2018 for The Black Book Experience. Earlier in the week, Chris Lake is also hosting a nighttime event at 1-800 Lucky as part of HARD Miami. This will be a daytime version hosted as part of a collaboration with Space Invaders, the event curators behind Miami hotspot Club Space.
The event will take place at the Shelbourne Hotel, conveniently located in the beautiful South Beach area. Starting at 12PM through 11PM, Chris Lake Presents Black Book serves as the perfect pregame to the last day of Ultra Music Festival or for those looking to beat the heat by taking the party poolside. Surprise guests will be announced closer to the event date, so stay tuned. For tickets, head here.