A very special gathering is taking place this summer after a two-year hiatus – one that aims to transcend the boundaries of community, art, music, and love. A gathering of kindred spirits working collectively to create an experience that is totally unique, never-the-same, out-of-this-world extraordinary. I'm talking about Midnight in Eden: Soulstice, more commonly known as Soulstice. What began as a crazy idea in the minds of a few close friends has blossomed into a cultural movement that draws in soon-to-be-family from all over the country to a remote location in the Southern California desert. The creator of the event, Jason Camacho, has had a vision for this his entire life. "We started an event series called Midnight In Eden back in 2014 in a dried up lake bed we found when we went to a Moontribe! The event, despite it being freezing temperatures, turned out pretty cool so we decided we'd do one later that year during the summer called Soulstice because it was around the time of the actual summer solstice," says Camacho.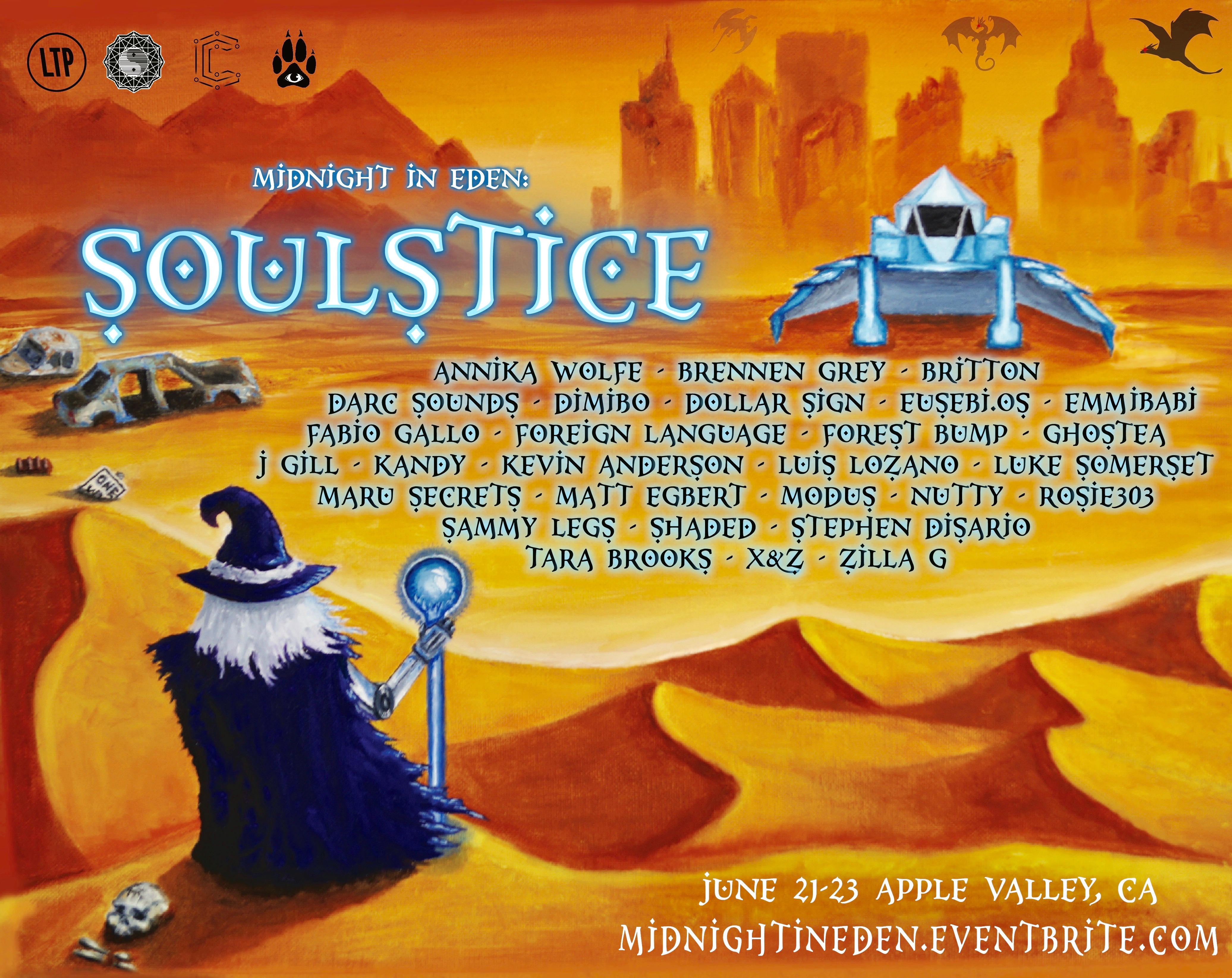 AW – What can Soulstice be described as?
JC – "Soulstice is a gathering of like-minded individuals looking to share art and love on the dance floor. For 3 days we turn the venue into our canvas and we create a family of people who help each other survive and thrive."
The inspiration for something like this doesn't always happen overnight. Where did the inspiration for Soulstice come from?
"Well I have always been the person who organizes parties. I used to throw party buses back in high school all the time and people would just come to me asking where the party is. One night while we were at Moontribe I looked around and was like wow, if these people can organize this, send out the address day of, AND have a good turn out then I can definitely spend months planning an event and have the same success. I also have really talented friends so I feel like it's my destiny to bring us all together so we can work to create something beautiful by our own rules."
Over the years, festivals of all calibers have grown immensely in popularity. What sets Soulstice apart from the rest?
"Soulstice is & always will be a very small intimate gathering with no more than 1,000 people! It creates a more intimate, familial vibe. When you walk into most festivals, you don't know all of the people on the dance floor, and they're not always the easiest to say hi to. I want to change the way people communicate with each other, I want it to be normal to say hi to everyone you see instead of blindly passing them acting like you don't see each other. Just by being at the same event it's clear we have some common interest so I want people to capitalize on those interactions. I am a firm believer that all it takes is one person to change your life, so I want more people to connect and that's more likely to happen when the event has a smaller capacity.  I really like that camping is so close to the sound stage because you can hear the music from pretty much anywhere in the venue. Soulstice is also extremely free-form in that there isn't a ton of rules restricting you – other festivals grow at such a crazy rate and have so much at stake that they often have to micromanage. The size and family vibe of Soulstice allows us to trust our attendees in ways other festivals can't."
This year is shaping up to be your biggest and best yet. What can people expect from Soulstice this time around?
"We're looking to bring a lot more art & camping area activities. We definitely increased the production with a new stage that we will be doing projection mapping on – plus, under the elevated DJ booth we're making a little neon club with some platforms and poles to dance on. We have a fully stocked kitchen and bar this year too which means we'll be selling food and we'll have an open bar close to the stage. As always the sound will be absolutely insane thanks to Renkus-Heinz speakers so bring some earplugs to protect those ears!"
Throwing an event is no easy task and always requires a team effort. Who is your team and who is helping you bring Soulstice to life?
"In the past it's just been me and my friends doing everything which made me feel like a psycho bossing people around with no real structure. This year I'm working with some very talented people – Cognition Events, Long Term Post, and Coalesce – to help delegate jobs and make it easier for us to create something beautiful together. My best friend Nate Besara is the artist behind all the flyers & promo images. We could have easily had him create a flyer from scratch off of a computer but he hand paints them which makes it much more special & personal. As for the music, we hand selected the lineup by choosing close friends to curate the sounds for the weekend. It's so cool how I get to bring some of best friends to the stage to share their music with all of us – Kandy, EmmiBabi, Brennen Grey, Stephen Disario, X&Z, and many more.  There are a lot of people who contribute in many ways – from the companies I'm working with to the artists creating for us to the DJs bringing the music to the volunteers working the event – and I am so thankful for each and every one of them! It wouldn't be the best possible Soulstice without all of these incredible minds involved."
Soulstice sounds like an absolutely incredible experience that's unlike anything out there right now – which could be intimidating for some. If someone is on the fence about attending, what's something you'd tell them to convince them to go?
"I would tell them that it's summertime and the weather is going to beautiful so come hang out with beautiful, creative people who want to show you the best possible time. It's a really inexpensive event that doesn't require too much effort – all you need to do is to come be a good person, wear a smile or two, and DANCE! And obviously bring the camping essentials you need to thrive in the desert. The venue is beautiful and small so everyone becomes a family instantly – I promise that even if you come alone you'll leave with a new group of friends and a different perspective on life :)"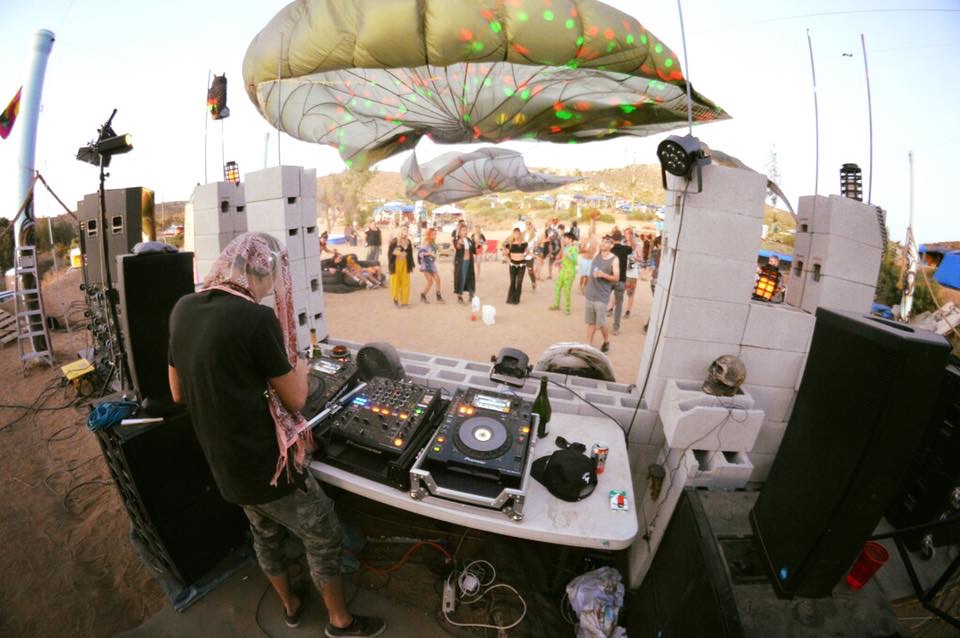 A different perspective on life… I like that. I feel like that's what experiences like festivals should do to people – give them a new way of looking at, well, everything. What is the main thing you hope people walk away from Soulstice with?
"I want people to walk away knowing that you really can do anything you want to – anything and everything is possible. At one point Soulstice was just a thought in my mind and then we manifested it into reality – we built it from the ground up and all it took was some dedication. You don't need a ton of money, insane industry connections, or anything like that. All you need is determination and you'll be successful in everything you do. With that being said, we do have a larger budget for production this year, so if you came in years prior and had fun, this year will be even better!"
Some people have been to Soulstice before – most have not. I fall into the latter category, which means this year is my first. Any helpful tips or advice you'd give to a first timer?
"Bring water, minimal clothes for daytime and warm clothes for nighttime, food, water, other sustenance, some sort of sleeping situation (tent, RV, car, whatever you feel most comfortable in), and shade. Don't overthink it – just come enjoy yourself and be yourself. Say hi to everyone you can and dance like everybody is watching."
It's safe to say that I am beyond excited for Soulstice, as is everyone who's bought a ticket so far – but what are YOU most excited for this Soulstice?
"I'm most excited to see all my beautiful friends in one place. Soulstice is very special to me because I get to have all of my favorite people in one place all weekend long, so really it's a giant family reunion. To me it's taking all the coolest people I see at festivals and sticking them on a desert island together. Plus all the new friends I'll make gets me even more excited."
Midnight in Eden: Soulstice will be taking place June 21st – June 23rd, 2019 at a yet-to-be disclosed desert location in Apple Valley, CA. Tickets and more info are available here. There's also a giveaway you can enter on Instagram where you can win some incredible prizes – one of which is a Soulstice ticket package which includes 2 weekend passes, 2 open bar passes, and 1 car camping pass. Check out the giveaway from Shop BGlittz and Soulstice right here and enter quickly – it ends this Friday, May 10th at 5PM PST!
FEATURE PHOTO: Rory Alcantar