Whether it's your first year or tenth year at Shambhala, all attendees are sharing the same level of excitement.
Shambhala (Shambs) is an independent boutique music festival that takes place at the Salmo River Ranch in Nelson, British Columbia, Canada. This year is the 23rd annual event to take place on July 22-25, 2022.
Over the years, annual attendees have considered the festival home, and the Shambhala community is their "Farmily". PLUR is very prevalent in this community; peace, love, unity and respect is showcased all throughout the event. 
Since Shambs is such a unique festival, first time attendees often go into the weekend not entirely knowing what to expect. Hopefully the next few points will help you come into the weekend a little more prepared. 

What to Bring
One major factor to highlight is that Shambs is exclusively a camping festival. The location of the Salmo River Ranch is somewhat remote. The closest town (Nelson) is 47km (or about 30 miles) away.
Once on the festival grounds, attendees spend anywhere from 4 to 8 days on the farm. While there are supplies to buy at the farm such as ice and other necessities, a foolproof packing list will go a long way. Aside from your typical camping fest supplies (tent, sleeping bag, camping chairs, etc.), consider the following items for your trip:
A shade structure: The weather is looking very hot.
A hammock: Set it up in the Fractal Forest for a glorious shady nap.
Proper footwear: Protect your feet from the rocky riverbed while cooling off in the river.
A flashlight or headlamp: Bring a flashlight to get back to camp after a night of dancing away.
Floatation devices for the river: Is there anything better than floating in the sun listening to some groovy house music?
Warm change of clothes: While hot during the day, it is going to get cooler at night.
Dust mask: Protect your lungs from the dust kicked up from all of the dancing. 
Little trinkets/gifts: Share and trade with the people you meet.
A wagon: If you plan on having large water jugs/a lot of camp stuff.
How To Get There
From Seattle: There are two options to cross the border to Canada from Seattle: Nelway and Paterson. Nelway is the closest border crossing to Shambhala. Paterson is slightly further away. The Nelway crossing is a small 1-2 entry line crossing that is open between 8AM and midnight. Nelway is the most used road to get to Shambhala. I recommend taking the slight detour to Patterson crossing to avoid long wait times, as it's open 24 hours with more entry lines.
Travel from within Canada: Whether you are traveling to Shambhala from Vancouver, Calgary or anywhere in between, prepare for long wait times. Attendees begin entering the camp grounds starting at 6AM on Tuesday July 19, and will continue to arrive throughout the week. Prepare for up to eight hour wait times on the road to the farm, the vehicle search is rigorous and thorough which takes time. 
Camp Like A Pro
There are a few options to consider when planning to camp at Shambhala; when to arrive and where to camp.
When to arrive: The earlier the entry, the higher the fee. If you choose to get to the campsite on Tuesday, it will cost an additional 150$ per person, Wednesday will be 100$ per person and Thursday will be 50$. The benefit to camping earlier is better choice of a camp spot, even though the music doesn't start until Thursday. Wait times to get into the event will be longest on Tuesday and Wednesday. While Thursday and Friday will be the shortest. Pro tip: all camping purchases are paid in cash!
Where to camp – There are four camping options available at Shambhala:
Metta: This is the only free camping option. Park your car at the free lot, and carry equipment to the campground. Camp spots in the Metta can be decent and shady, depending on when you arrive and availability.
Sunshine: Paid Camping. Sunshine and Sunshine Overflow cost you $50 for a decal ($100 for oversized vehicles, $150 for vehicles over 40 feet in length) if you camp with your car (parking and making the trek to the tent-only section of Sunshine is free).
Starlight: Starlight is now reserved for camperized vehicles like RVs, trailers, or camper vans. The festival defines a "camperized vehicle" as anything with a permanent bed installed. This campground will cost you $80 ($160 oversized, $240 for vehicles over 40 feet), and allow you to park and camp inside and around the tree line directly adjacent to the main festival grounds. Typically, Starlight will sell out as early as Wednesday evening.
Shambhalodging: Shambhalodging is the most expensive option for camping. Buy a pass for a number of perks such as; waived early entry fees, express lane entry, separate porta potties and potable drinking water. There are options of pre-set up campsites for attendees without camping gear. 
Know The Culture 
There are a few traditions that the "Farmily" have upheld through the years, the first being the unofficial opening of Shambhala with Skiitour. The group's Thursday evening set brings out a crowd decked out in ski goggles and retro outfits. Pack some funky items to join in the fun.
After the sun goes down, everyone goes back to camp to get ready for "Day Onesie" where thousands of festival goers dress up in pajama onesies on Thursday and have a giant party celebrating being back at the farm.
Shambhala is known throughout the EDM world for being a welcoming, loving community. Ensure to go into the event with an open mind, an open heart, and have the best time!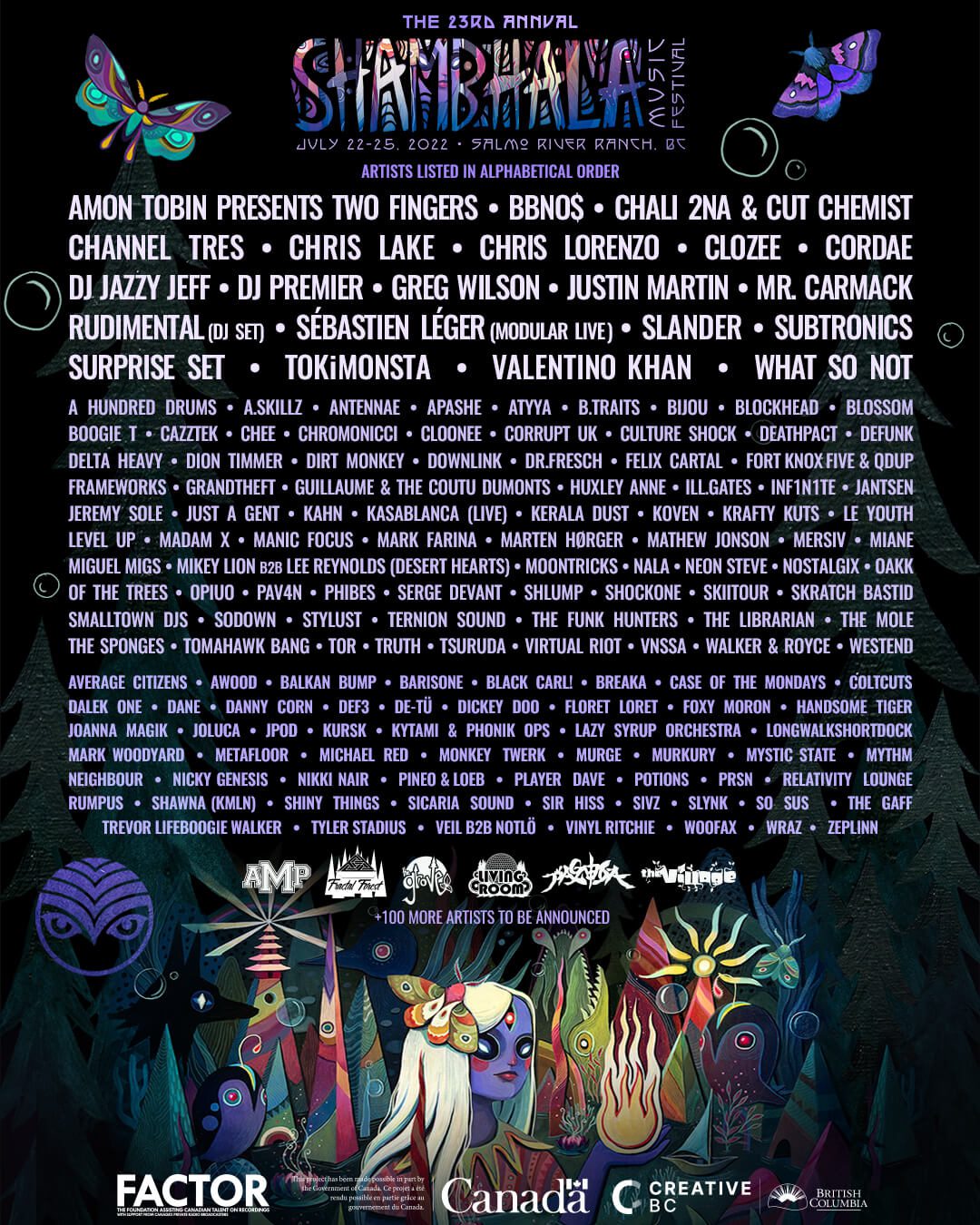 All images are are retrieved from Shambhala's website.