As Central California gears up for the best weekend of their lives in early October, Claude VonStroke keeps everyone in the loop regarding all things Campout on the new Dirtybird Campout Radio Show on Apple's Beats 1. "I'll do a mix, of course, and then we will have a summer secret track of the week, which is the exclusive track that's only for the radio show, that hasn't come out or it's coming out in like two months, but nobody's heard it yet in the general public or I've only been playing at DJ shows, then we have a guest mix from one of the artists that's playing at the campout." However, this radio show is much more than just music.
Claude wants to let us behind the scenes of this mega-successful record label and festival through 'fireside chats' with characters from Campout as well as interviews with Dirtybird players like Christian Martin, one of the originals, on how all of this beautiful madness started.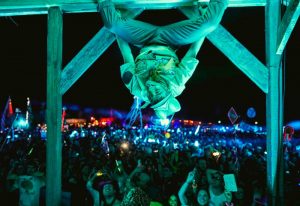 The first two episodes have already aired, so check them out here. The third episode will air on Saturday, September 8th at 3am PST so be sure to tune in, and don't forget to secure your West Coast Campout tickets here for a weekend full of down and dirty beats and debauchery. To keep up with all things Dirtybird and Claude VonStroke, be sure to follow their socials and keep an eye on their websites.
Featured photo by: Dirtybird